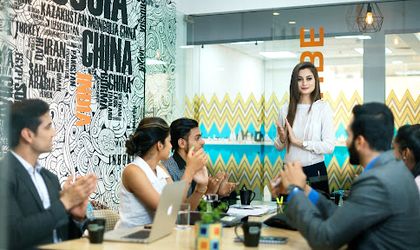 Creating an effective workplace can be challenging. The truth is getting all employees to come together and work their best to achieve the same goals for the good of the company requires serious teamwork and dedication. One way of doing so is to foster synergy between workers to increase efficiency and productivity.
Workplace synergy can be defined as the collaboration of individuals who combine their efforts to enhance their achievements and produce great results. By promoting it, managers make their team stronger and create a positive work environment where there is a high level of performance.
As a result, if you want to assemble a results-oriented team, you should all operate in synergy. If you aren't sure how to do this properly, take a look at the following techniques that should serve as the foundation of every team and will help you build workplace synergy.
Track and acknowledge progress
Tracking your employees' progress is a very important part of promoting synergy in the work environment. Doing so actually gives you an idea of how hard everyone is working to achieve the company's goals. That's why it is crucial that workers know what their roles and duties are so they will be fully present at all workplace functions.
Tracking progress also leads to increased productivity, which should then be acknowledged. While some managers choose to praise their efficient employees, others opt for something more unique such as sending them useful and thoughtful holiday gift boxes. Acknowledging and rewarding your team members for their achievements leads to happier and more engaged employees.
Enhance workplace communication
The importance of communication among team members cannot be stressed enough. Communication is regarded as the foundation for a successful team effort since it allows everyone to express themselves openly and accurately, resulting in greater synergy.
Besides this, clear and effective communication with employees can boost their engagement and sense of belonging in the company, increase their productivity, encourage team buy-in, and most importantly build a healthy workplace and organizational culture.
There are a few things you can do to ensure effective communication with your team members. Some of the most prominent ones include always aiming for clarity, understanding different team communication styles, watching body language and tone, and knowing where to communicate and about what.
Help workers feel empowered
Another way of promoting synergy in the workplace is by empowering employees. This can be best achieved by giving team members permission to use their skills, talents, and power to do their job well. This way you are showing them that you have faith in their abilities and trust them to produce great results that benefit everyone.
Before you empower them, you should identify the skills of individual workers so they can be placed in a role that suits their talents. You can experiment with different tasks to see how they handle the workload and decide where they should be positioned.
If necessary, send employees to further training to foster internal development and growth.
Foster team collaboration
Collaboration refers to employees working efficiently together to brainstorm new ideas, complete expansive projects and produce great results that benefit everyone. Improving it can also have a great impact on promoting synergy in the workplace.
The thing with boosting team collaboration is that it requires serious dedication and focus. Some helpful ways to build a collaborative company culture include encouraging open communication, inviting co-creation, and making time for team bonding.
For example, the main purpose of team building is to give employees an opportunity to get to know each other outside of a work setting. So, whenever tensions rise or work gets hard, individuals can easily communicate to diffuse the situation and collaborate more effectively.
Share vision, values, and goals
The truth is synergy is more likely to occur in the workplace when team members share the same vision, values, and goals. In fact, a great way for employees to overcome their differences is to have a common objective they will work towards to achieve it.
That is why you should strive for breaking down the walls between employees and management to improve the health of your business. Doing so will bring everyone together in pursuit of reaching common goals while sustaining and growing the company over the long haul.
Be sure to start your work days by defining the goals and detail what each person's responsibilities are and what they should do to achieve the results everyone is looking for.
Final thoughts
Workplace synergy can be best achieved when team members collaborate together to make a greater impact than they would separately. Promoting it properly can easily result in high productivity, efficiency, and employee accountability in the work environment. 
For that reason, managers should do their best to build a strong team that shares the same vision and goals and does its best for the good of a company. If you follow the tips from this article and you can instantly promote positive synergy in your workplace.