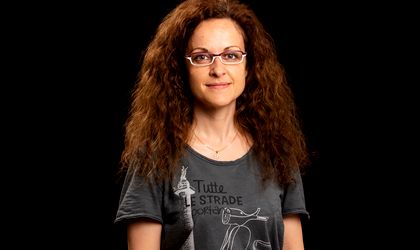 For any company today, especially those in very competitive fields, having an employer branding strategy is extremely important for eyeing the best industry talent, driving innovation, and aspiring to stay ahead of the competition.
By Romanita Oprea
Electronic Arts Romania, one of the biggest technology and video game companies in the world, together with Golin, invited technology and interactive creation experts to join their developing studio in Bucharest, as part of the "Unique Together" employer branding campaign. The concept is built on insights into the lifestyle and hobbies of the EA Romania team, and the campaign combines their classic creative approach with targeted tactics. "Ever since 2006, when we came to Romania, we've been constantly expanding and developing local teams and today we are one of the biggest technology companies in the country and one of the biggest Electronic Arts studios in the world," said Andrei Lazarescu, EA SPORTS senior producer at EA Romania. The "Unique Together" recruitment campaign started from the company representatives' desire to monetise on the huge potential of people in the country, and the company chose to approach recruiting from a new perspective, alongside Golin. "The result is a smart and entertaining campaign that talks about who we are and addresses people who want to join us on this beautiful journey. We are targeting those with a limitless passion for technology and/or games, as this is the common element that connects us and allows us to offer the best experiences to players around the world," added Lazarescu.
Meanwhile, Florin Merla, senior manager at Golin, said that through this campaign, the agency wanted to reach an audience that could resonate with the diversity and the traits of the hundreds of EA Romania specialists. "Getting the insights was a very enjoyable process and we were delighted to see the team's openness, sincerity, and humour." In fact, according to Irina Roncea, managing director at Golin, the agency has extensive expertise in employer branding and employee communication. "The agency has always worked on employee communication briefs, and over the past 4-5 years the number of employer branding briefs has constantly increased. Companies that didn't use to invest in communication before have started to do it in the last 2-3 years for employer branding reasons, due to a scarcity of talent on the market, both in terms of quantity and quality," said Roncea.
Moreover, according to Merla, Golin runs a unique Customer Journey analysis to frame the assignment and find the focus point or the key job to get done, so that their path forward can be clear. Next, the agency teams do research to obtain insight that will inspire their creative solution and determine KPIs to measure their work and guide future campaigns. "A key to reaching any big idea is researching a topic and pulling a lot of insights before trying to solve a brief. We're curious like that – we don't really like to stop searching before we know all the ins and outs. In addition, with employer branding and recruiting campaigns, we think it's really all about the people – the people we have in the company and those we want to attract to the company. So, it became pretty obvious we needed to hold consistent one-to-one sessions, observe the teams' internal processes and interactions, ask a lot of uncomfortable questions, profile the EA team in the public space (media, social media, events) to help potential employees get to know the EA team, and so on. And we did it. It took us a few weeks to profile the EA team, understand what they're made of, what they like, what they need, what they want," Merla explained.
Trend or reality?
Is it a trend among companies to hire agencies to work on employer branding? "It was a trend 5-6 years ago. Today it's a stringent business necessity. Companies and institutions in Romania are in desperate need of employees, both in blue collar jobs as well as roles requiring experts and great talents. We see companies that developed their operations in Romania and had a solid growth here now finding it challenging to have a good business performance because of the labour market issues. The European Commission's 2019 Report on intra-EU Labour Mobility showed that more Europeans than ever were living and working abroad – 17.6 million EU-28 "movers" in 2018, of which 12.9 million people were of working age (20-64 years old). Today, 4.2 percent of the total working age population in the EU is living in a host Member State, and Romania is a "top 5 supplier" in this category, alongside Lithuania, Croatia, Latvia, and Estonia," said Irina Roncea.
From factories and cleaning service companies to schools and kindergartens or IT&C and creative industries, everybody's hiring in Romania. And they're doing so at a very high cost. That is because "a challenged labour market, now lacking both in terms of the number of people available to hire as well as in terms of the quality of the workforce, creates dramatic competition and companies end up bidding over an employee that may not be the most skilled or the most loyal, and not have the greatest will and potential – they're just individuals whom you can hire to fill an open position. And a couple of months later, another company comes and makes a bid and this goes on and on, at a very high rotation speed. We are in a paradoxical position where we have too many job openings and too few people to fill them. In such circumstances, employer branding becomes fundamental for companies instead of just something that is nice to have," added Golin's managing director.
According to Ana Pohrib (main photo), people ops manager at Amber, the difficulty of identifying and attracting the right candidates is high and has two major causes. First of all, the IT&C industry is very challenging, and being part of the game development niche narrows the pool of candidates even further. This particular industry has now over 6,000 specialists and grows from year to year, but it's not enough. "The second cause is related to the fact that Amber is an independent studio, with a different organisational culture. That is why we want to attract people with an entrepreneurial spirit: candidates who will approach their job not just as a role, but as their own business. We are looking for the entrepreneurial attitude – the future colleagues have to look around them and see more than just their own tasks and team, but also think about the others' well-being and projects. We need to combine technical skills with a behaviour and attitude that will fit the cultural environment that they will find in our company," said Ana Pohrib. The number of employees at Amber will grow by a minimum of 20 percent, and it is estimated to pass the 500 mark by the end of 2020 in its 5 offices across the world: Bucharest, Botosani, Los Angeles, San Francisco, and Guadalajara. And that in a context in which the number of candidates decreases with every year that passes, with most of the talents choosing to leave the country, whose education system fails to prepare specialists to work in today's most dynamic sectors. A vicious cycle that sees companies having to adapt every day and create their own special recruitment tools and approaches.
When it comes to the tools used in employer branding, Amber mostly uses its social media channels (LinkedIn, Facebook, YouTube) where it promotes its organisational culture, job openings, special events, the awards they receive, etc., as well as insights into current activities such as showing what a training session looks like at Amber,  , etc. "Authenticity is very important and highly regarded here. At the same time, we use special tools such as specific game events, conferences, contests or networking moments where we present ourselves and our capabilities. In order to communicate as professionally as possible on the market, we work with strategy, design, communication, and social media agencies," added Pohrib.
"It is certainly not easy to find the purple squirrel when you aim to find both technical and culture fit in such a dynamic market. The difficulty lies in a series of factors (e.g.: seniority, field of expertise): sometimes you can fill a position in two weeks tops, but in other cases two months might go by before you find the best match. For example, development roles tend to bring more challenges when it comes to finding the right person. We are looking for colleagues with experience and in-depth knowledge of their field, who are proactive when it comes to their own development, analytical, and passionate about their work. Last but not least, we are looking for people with a positive vibe and a 'can do' attitude," said Bianca Ardeleanu, HR specialist dcs plus.
The creative side
In this context, do IT & gaming companies also require creative and new approaches to improve their recruitment process? As Florin Merla points out, Golin works with several other tech companies besides Electronic Arts Romania. Given the strong competition in terms of tech talent recruitment, it's no wonder that companies operating in this area are having to go a step further to stay ahead of the game. "At the same time, creativity and innovation are so deeply ingrained and rooted in these companies' cultures and businesses that such attributes are definitely relevant for their recruitment processes and something that we, as agencies, have to deliver," Merla concluded. His point is supported by the HR specialist at dcs plus, who also highlights the fact that it is important to get input from professionals with niche experience; however, the first step is understanding and defining who you are as an employer.
"In our specific context, I believe that an authentic, straightforward campaign is catchy. When you are looking for colleagues who will be there for a long time, it is best to outline the reality without a hidden message. In general, if the message is coherent and straightforward, creativity helps you highlight your presence in a sea of possibilities. I would say that creativity, without a doubt, is the key in standing out," Ardeleanu concluded.
On the company side, Amber rolls out different employer branding activities throughout the year. One attractive programme is called Amber Academy, which is already in its third year and is based on three pillars: workshops dedicated to students and recent graduates (talks about the industry and the roles, raising awareness about what it means to work in the gaming industry and especially at Amber), a two-week summer camp for young people who want to gain more knowledge about game development and an internship phase that takes three months. At the same time, Amber Academy is open to current employees who want to grow, develop new skills and become mentors for the new generations.
In her turn, Anca Teletin, chief operations officer at Grapefruit, believes that an employer branding campaign for the IT & gaming and digital sectors doesn't have to be creative as much as it has to be friendly. And that's because people tend to choose friendly job postings rather than rigorous, formal ones. "We want to show our friendly side to potential candidates, to give them the same 'vibe' we have here at the office. We are professionals, but we're also human, and we like treating people the way we would like to be treated. We've been posting our jobs on social media platforms, even the less professional ones like Instagram or Facebook, just so people can feel comfortable applying. We are also posting on the professional side of social media, on platforms such as LinkedIn and hiring platforms dedicated to the IT field. We are looking for passionate people who would match our Grapefruit values, people who want to be the best in their field, and we're always mentioning that in our job openings and social media posts," Teletin stated. The digital agency has a complex recruitment process, with lots of phases, so they can find the right people and put them in the right seats. Job candidates face a variety of options when it comes to applying to several jobs at different companies. They have a tendency to opt for the fastest and easiest option, even though sometimes it's not the healthiest one (from the perspective of the employer-employee relationship).
"There are two major principles we follow when it comes to our recruiting process: people, not jobs, and the right people in the right seats. We also hire based on our values: passion, accountability, fairness, pragmatism and being an A-player.  With this recruitment process, we are making sure that we are indeed choosing the right people and, on the other hand, that candidates know for sure that they want to work at Grapefruit. This way they can discover whether our company is the best place for them in terms of personal and professional growth and development. The compatibility between the Grapefruit team and the candidates weighs the most in our decision-making process. We're not neglecting the technical side, but we care a good deal about our chemistry with each candidate. We have a compatibility test where our HR representative and our personal development and team integration specialists have a conversation with candidates in order to find out more about them and see whether they are a good fit, said Teletin.
5 Best Recruitment Tools in 2020
1.     Applicant Tracking System- a recruitment tool created to help HR professionals and recruiters streamline, fasten and improve the hiring and selection process that serves as a database with all of the applicants' profiles, it helps interview scheduling, candidate screening and evaluation and enables easy team collaboration and communication.

2.     AI for screening

According to ideal.com, AI for screening is designed to integrate with your existing ATS, automated screening software uses AI to learn what good candidates look like based on your past hiring decisions. The software learns what your employees' experience, skills, and other qualifications are and then applies that knowledge to automatically screen, grade, and shortlist new candidates.

3.     Recruitment chatbot

As a recruiting tool, a chatbot uses natural language processing to understand text like a human would. The main functions of a recruitment chatbot is to streamline the top of the funnel by providing real-time, on-demand communication to candidates. Its functions include answering FAQs about the job, providing feedback and updates, and scheduling a follow up or interview with a human recruiter. As ideal.com shows, one of the biggest trends in 2019 will be candidate experience.

4.     Recruitment Marketing Software

According to talentlyft.com, a Recruitment Marketing Software is a specialized type of HR software created to help HR professionals and recruiters a automate, streamline and improve recruitment marketing process and operations. It helps HR professionals and recruiters to apply modern marketing methods and tactics to the recruiting process in order to build and promote their employer brand and attract top talent in the market.

5.     Super-targeting job ads

New methods of job ads include re-targeting candidates (e.g., advertising your role to people who've visited your company website before) and geo-targeting (e.g., advertising your role to people physically nearby).With a tighter labour market, recruiters will be eager for better tools to get their job postings in front of the key people.