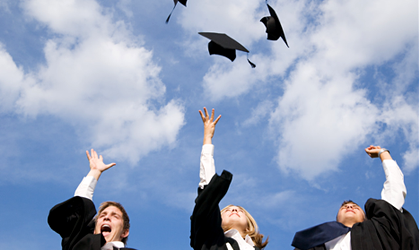 Most graduates of higher education institutions in Romania live in Bucharest (33 percent), Cluj-Napoca (11 percent), Iasi (10 percent), Timisoara (7 percent) and Craiova (6 percent), according to data from the National Institute of Statistics. These five university centers with the most graduates also account for the highest amount of office spaces and office transactions, according to ESOP, cited by economica.net.
In total, 126,271 students obtained their Bachelor's, Master's or PhD in 36 university cities nationwide in 2017. Of these, 66 percent graduated in one of the five main university centers. This year, 377,000 Romanian students began the academic year.
In 2017, Bucharest had 42,882 graduates, followed by Cluj-Napoca (14,151), Iasi (12,878), Timisoara (8.547), Craiova (5,775), Constanta (5.145), and Brasov (4,588), according to the INS.
"Romania can become the most important regional center of technology and innovation, through the know-how brought by the multinational companies and through the initiative of Romanian start-ups, with UiPath the unicorn as a spearhead and all the ecosystem that can be developed around this company and around the advancement of RPA (Robotic Process Automation). We believe that innovation in technology represents an opportunity that can be transformed into a country project, which deserves to be on Romania's political agenda between 2020 and 2025. We consider that the office market is keeping up and is ready to deliver quality spaces to support the development of these industries in the country's main university centers," said Alexandru Petrescu, Managing Partner at ESOP Consulting | CORFAC International.
Bucharest is the largest university center, with a third of university graduates and a volume of 370,000 square meters of office spaces scheduled for delivery this year. Among the big companies that have signed pre-lease contracts and have moved or will move to new spaces, giving these graduates jobs, are ING Tech, Microsoft, Sparkware, Thales, London Stock Exchange, etc. 
Cluj-Napoca comes second, with 14,151 graduates. Here the office market is best synchronized with the number of future employees. In 2019, it is estimated that about 140,000 sqm of offices will be delivered, to accommodate over 14,000 new employees. Among the big office tenants this year are MHP Consulting Romania and SDL.
In the third place as an annual number of graduates, with 12,878 diplomas, the city of Iasi is experiencing a slight slowdown in its office market. This year, only transactions with areas under 2,000 sqm were made, and deliveries are estimated at around 40,000 sqm.
Timisoara is in fourth place, with 8,547 graduates, with 48,000 sqm of new office space to be delivered for about 5,000 future employees. Among the big transactions of recent years were those of Visteon, with 4,840 sqm in the ISHO project, and the expansion of Nokia in Bega Business Park.
Craiova is a university center that has recently come to the attention of investors, especially attracted by students with technical training. A high quality office market is now being created here, with the first class A office spaces in this city having been delivered due to rising demand. Craiova currently has an office stock with a total area of ​​49,000 sqm, with about 19,000 sqm to be delivered this year.