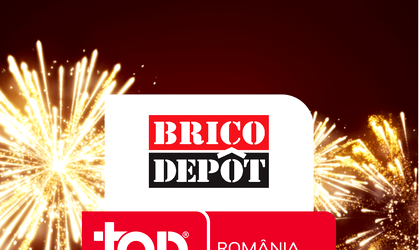 Brico Dépôt was recognized as a Top Employer in 2023 by the Top Employers Institute in the Netherlands, being the first DYI retailer with this title in Romania. Obtaining this title is proof of a sustainable, stable business that operates according to high standards in terms of the commitment assumed in the field of human resources.
"The Top Employer international certification is proof for us of the fact that, regardless of the social or economic context in which we find ourselves, people come first. It is an honor for us to be the first retailer in the field of home improvement in Romania to obtain this title. It is also important to mention that the entire success of Brico Dépôt is due to our colleagues, who have demonstrated that a transparent environment and the development opportunities they benefit from are key elements for a healthy business," says Adela Smeu, Brico General Manager Deposit Romania.
Following the evaluation, Brico Dépôt distinguished itself through processes and programs that optimize the employee experience in the company and that target key moments in the employee journey – from recruitment and onboarding to development opportunities within the company. For example, onboarding programs dedicated to new employees are customized for both new colleagues in the stores and for those in the company headquarters and guide them at the beginning of their journey in the company, to become autonomous and confident in their new role.
Afterwards, Brico offers them the opportunity to develop continuously, through activities and learning programs dedicated to various groups of participants – from the Training Catalog, which is addressed to all colleagues based on voluntary enrollment, to more specialized courses, such as: Power2Store Academy, addressed to management teams in stores, Digital Evolution, program co-founded by EU sources for the development of digital skills for colleagues in stores or Power2Manage, an 18-month program for middle management teams in the Headquarters. In 2022, Brico offered a total of over 35,000 hours of training.
"We have an organizational culture centered on customer needs, and this approach also governs our relationship with colleagues. Because they are our internal customers. From their first day at Brico, colleagues come into contact with strategically developed programs with the aim to create an optimized employee experience and further to inspire, stimulate performance and creativity and support long-term development. Through the ecosystem of benefits, wellness programs and development opportunities that we offer to our colleagues, we foster and strengthen the partnership with our internal customers. Furthermore, we encourage a culture of constant feedback through various channels and instances, as well as a positive work climate where our diverse colleagues feel genuinely included and can fulfill their potential, feeling safe physically and mentally every day. The Top Employer certification is primarily thanks to all our colleagues, whom we are extremely proud of" adds Cristina Uleșan, Brico Dépôt Romania Human Resources Director.
Brico achieved very good results also for its ethics and integrity framework, the way in which its human resources strategy is connected with its business one, as well as for communicating its decisions and the involvement of employees in internal projects.
At the same time, the company's emphasis on well-being was noted – another initiative dedicated to Brico Dépôt employees is the Brico SOS program, an assistance service for colleagues and their families, on three pillars: psychological, legal and financial counseling.
The Top Employers Institute in the Netherlands is one of the most important independent international forums that assess the human resources practices of companies, globally. Established over 30 years ago, the Top Employers Institute has certified 2,052 organizations in 121 countries/regions. The study is conducted on six pillars: governance, structures, talent attraction, development, commitment and unity.