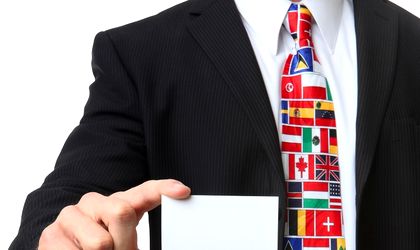 While the beginning of the advertising market in Romania, roughly 25 years ago, saw international agencies and marketing representatives bringing expats to start teaching locals and helping the market grow and expand its knowledge, the last five years has brought a major trend of experienced Romanian marcomm representatives "attacking" the international market, bringing a new touch of creativity, freshness and innovation, that both big, developed industries such as those in the UK, France, Italy, Germany and Spain, but also smaller markets in CEE and closer to home, such as Poland, Ukraine, Kazakhstan, etc, enjoy and benefit from.
By Romanita Oprea
FRESH EXPERIENCES
With almost 14 years of experience in the marcomm industry, working both on the client side (Vodafone) and on the agency side (CohnandJansen JWT, Publicis Group, Ogilvy), Ana Maria Olaru is starting this month as strategic planner at Havas Worldwide London. According to her, working abroad was something she had wanted to experience since university. She had considered a move like this before, but the opportunity emerged at the beginning of the year and she decided it was time to make a change.
The UK was always top of her list for two reasons: first, it is a planning and creativity hub, a place Olaru often looked to for knowledge in advertising. Second, from a cultural point of view, British culture always seemed closer to her values and way of working, so she thought the integration would be easier for her.
"I believe that there is a lot of talent in the advertising industry that would bring a lot of added value abroad. Leaving the country is a very personal decision as it involves tough changes and decisions, so it is hard to say if there is a trend that is growing or not. I think also that we live in a world where work mobility is much easier and brings a lot of value so for sure there will always be a percentage of people in the industry taking this challenge, whether they are promoted within their organization or take the leap on their own," said Olaru.
Meanwhile, Diana Lupescu has taken a regional position, becoming Eastern Europe region digital & brand engagement manager at PepsiCo in March. A member of the IAA Young Professionals Romania, Lupescu has nine years' experience in marketing, working for big players, both agencies and companies, such as Infinit Solutions, Odyssey, Ursus Breweries / SABMiller and PepsiCo.
"International mobility is not something we're hearing about for the first time today. It has been part of our lives for thousands of years, even though the reasons, the main motivators have changed. Now, career mobility is nothing else but an evolution of our own mindset as people and a broader understanding of our own values and capabilities. In the case of Romania and, more precisely, the marketing and advertising industry, beyond the already stated factors, one that I believe stands out is experience and learning enhancement. Being open to other countries and further understanding cultural diversity not only enriches you on a professional level, but also on a personal one. We, the Romanians in marcomm, have always been courageous enough to discover and leverage our potential in different contexts. Why not abroad?" said Lupescu.
Moreover, she believes this is a time of awakening, not only for local businesses' HR recruiters, but also for those taking their activity outside the borders. The paradigms are no longer the same – agencies' representatives, clients' representatives and the work that comes out of it – bringing profitability or not and/or equity sustainability. "I believe it is a time of internal dialogue, as we actively seek to refresh our progress and goals, and our in depth understanding that the only borders are mental ones and the result will be seen even in the marcomm ecosystem. While there may be a trend of marcomm professionals moving abroad, I do not see it as an accelerated one, just one at the beginning of its real potential," added PepsiCo's Eastern Europe region digital & brand engagement manager.
One of the most creative agencies in the CEE region, according to the judges at major international advertising festivals, McCann Worldgroup Bucharest has its own fair share of great Romanian exports to the international market, from Adrian Botan (currently president creative Europe, global ECD at McCann Worldgroup), Razvan Capanescu (chief creative officer at McCann Prague), Ioana Filip (former executive creative director at MRM//McCann and currently SVP executive creative director at Energy BBDO Chicago) and Diana Ceausu (currently VP, global strategy director at Commonwealth//McCann Detroit), just to name a few. Catalin Dobre, CEE creative director at McCann Worldgroup, believes that this brain drain is probably one of the biggest challenges the local industry is facing right now. And it's not happening only in Romania, but all across CEE. "It all comes down to people. And if we don't manage to keep the talented ones here, it will be hard to evolve as fast as we could. I think the next stage the industry is heading to is an exchange. We'll continue to see Romanians leaving, but we'll also import talent. We are an up and coming market. Maybe we don't have the budgets, but we have the flexibility and the energy to move things faster. From an agency perspective this is very important because I see a lot of youngsters from the West interested in coming here," said Dobre.
Moreover, he pointed out, McCann's representatives are helping to move things faster in this direction, as they run incubators with advertising schools in Spain, for instance, in order to recruit young talent from abroad.
Still, when taking a look at people leaving in the key positions, Dobre wouldn't say it is a widespread phenomenon. On the contrary: he thinks there are just a few hot spots in Romania that are growing creative and marketing leaders that can compete anywhere in the world. And these hot spots are proof that the industry in the country is growing. "They have exposure to regional and global projects that give people the chance to gain a lot of international experience from here, from Romania. So, when they leave, they are not experimenting on virgin ground, they are just getting better at what they are already doing. For me, the biggest issue is not people leaving in leadership positions. That is just proof that we are becoming more and more competitive on an international level. The biggest issue is with people leaving for the sake of going abroad," concluded Dobre.
What are Romanians' main advantages over their international competition? Although she has only recently left and believes that it is very early to judge, Olaru would say that Romanians' Balkan spirit helps them capture more emotion and understand better different categories of target.
And Lupescu added, "From the examples I know, without generalizing, I believe it is the willingness to progress and get better and better at what they do. Keeping the learning process as a continuous momentum. Respect for their peers/colleagues."