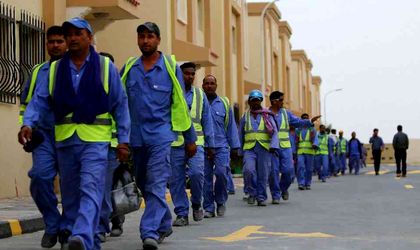 Romania issued work permits during the first seven months of this year for 4,395 foreign employees which came mainly from Vietnam, Turkey, Nepal, Serbia and Sri Lanka, according to Labor Ministry data sent to Business Review.
These figures show a record request for foreign employees in Romania, where businesses struggle with workforce shortages in sectors such as construction, HORECA or logistics.
During the first seven months of this year, The General Inspectorate for Immigration, a branch of the Ministry of Internal Affairs, issued 4,395 new work permits for foreign employees mainly from Vietnam, Turkey, Nepal, Serbia, Sri Lanka, China and Moldova.
Official data show the total number of non-EU foreign employees in Romania – permanent and posted workers – was 17,089 in July 2018, an all-time high.
In December 2017, Romania registered 6,709 work permits in use for non-EU foreign citizens, up from 5,594 at the end of 2016.
Statistics don't include EU citizens, as they don't need a permit to work in Romania.
Turkey and China, the main sources of foreign workers
Turkey and China are by far the two leading countries of origin of migrant workers in Romania, with 3,627 and 2,120 employees, respectively, followed by Moldova (1.787), and Vietnam (1,554).
"The main employment sectors of non-EU/EEA citizens in Romania are: restaurants, shipbuilding and floating structures, wholesale clothing and footwear and construction of residential and non-residential buildings," the ministry said to Business Review.
But the real number of foreign workers in Romania is much higher, due to unreported work.
The number of employment permits issued by the General Inspectorate for Immigration surged 70 percent in 2017 against the prior year, to 4,977.
In 2017, the main countries of origin for the foreign employees which obtained employment permits in 2017 are Vietnam (1,406), Turkey (669) and China (566).
Employers claim it's harder than ever to find new workers in Romania in sectors like construction works or shipbuilding and prefer to bring foreign workers.
The impressive economic growth Romania experienced during the last few years put increasing pressure on employers to find skilled workers in order to expand their businesses.
Rising quotas
In July, Romania's government has increased quotas for non-EU foreign workers in 2018 by 5,200 work permits, on high demand from local companies claiming they are affected by workforce crisis.
The government has decided the supplementation by 5,200 of the contingent by types of newly admitted workers on the Romanian labor market in 2018 for the two major categories of employment, up to 8,000 permanent workers and 2.400 posted workers.
Last year, the government decided to issue 7,000 work permits for foreign workers in 2018, out of which 5,200 for permanent and posted workers, and the new project will increase the total number to 10,200 permanent and posted workers and to 12,200 including the seasonal and other types of foreign employees.