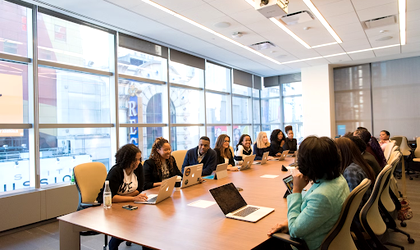 Managing a distributed workforce in a digital environment can pose many challenges, including ensuring regulatory compliance while paying workers on time and in a consistent manner. In addition to selecting the appropriate Staff Management Software, companies need to make sure they're working with solutions that meet their budgetary requirements, as well as key company goals and objectives.
Let's examine a few widely-used software suites that allow businesses to take care of their HR-related tasks in an efficient manner. Although this is not an exhaustive list, it does provide valuable insights into how to approach HR management in a fast-evolving digital economy.
#1 – Hibob
HiBob explains that it's on a mission to fundamentally transform how business organizations operate in the modern world of work with its innovative HR (human resources) platform, called Bob. The Hibob team claims they're leading the way for the modern, all-digital workplace, Bob aims to provide resilient, agile tech that encapsulates all the different technicalities of HR processes into an intuitive digital suite that covers every worker across the firm.
Since the past few years, trusted and empowered "Bobbers" from across the globe have brought their true-selves to work on a daily basis, while being highly motivated to implement a comprehensive HR system that will streamline the digital work experience for HR workers, management staff, and workers employees alike. 
Described as being agile and highly adaptable, HiBob claims that it innovates via continuous learning loops in order to initiate seismic cultural shifts for businesses with distributed workforces. Business organizations leveraging Bob and other Staff Management Software can streamline hiring, retain the most talented workforce, and improve worker engagement.
#2 – kadence
The team at kadence explains that they're building the operating system for the future of the modern workplace. Their vision and goal is to create a world in which every individual has access to the wide range of opportunities, the right digital tools and Staff Management Software, as well as the appropriate environment to perform their best work wherever they reside. 
Kadence says they believe the way we all work should actually lift us up, and not lock or restrict us in any way – allowing industry professionals to truly succeed in everything they do on a daily basis. That's precisely why kadence are focused on implementing next-gen tools for hybrid workforces, developed to unlock the true potential of employees, while empowering them with more positive ways of completing work-related tasks.
By developing the operating system to meet the requirements for the future of work, kadence aim to enhance the coordination of workers, time, space, and other resources to help professional teams feel empowered to make the vital choices regarding how, when, and where they get their tasks completed.
#3 – Gusto
Gusto reveals that their clients tend to come from nearly all walks of life and so does their professional team. They prioritize hiring the most qualified workers from a wide range of professional and academic backgrounds, not just because it's the appropriate thing to do, but because it makes their business more resilient. 
Gusto is described as a modern, online people platform that focuses on assisting small businesses take care of their workforce. In addition to full-service payroll capabilities, Gusto reportedly provides health insurance, 401(k)s, expert HR services, as well as Staff Management Software. At present, Gusto maintains business offices in Denver, San Francisco, and New York while serving over 200,000 companies.
#4 – Rippling
Rippling explains that it is one of the preferred ways for companies to manage their HR, IT, as well as Finance functions — including payroll, worker benefits, everyday expenses, corporate payment cards, PCs/other electronic devices, productivity apps, and other features — via a single unified and user-friendly workforce platform.
By seamlessly connecting different workforce systems to a common "source of truth" for worker data, companies are able to effectively automate manual and tedious work they typically need to perform in order to make key worker changes. Take digital onboarding, for instance.
With Rippling, companies are able to simply click a button and easily set up a workers' payroll, health insurance benefits, corporate cards, work computer/software, along with third-party apps — such as Slack, Zoom, as well as Microsoft Office 365 — all within a few minutes.
#5 – UKG
At UKG, they claim that their purpose is people. As firm believers in the power of workforce culture and belonging as the key to organizational success, they intend to support productive workplaces while enabling long-term partnerships with their clients in order to show what's possible when firms invest in their employees. 
Established after a strategic merger that launched one of the leading HCM cloud firms, their Life-work Tech approach to HR, payroll, as well as employee management solutions for all people reportedly helps over 70,000 businesses across the globe and across almost all industries with anticipating and adapting to their workers' requirements beyond just work. 
#6 – OnPay
OnPay is one of the industry's fast-growing software firms that provides SMBs and accountants with the optimal payroll solution in the cloud, and backed up by a team of qualified experts. And as a payroll service provider with over 30 years of real-world experience, they claim to know how to get the tasks done in an efficient manner. 
Whether company managers have to deal with three workers or even a 1,000, OnPay is focused on making payroll simpler and frictionless. The firm also serves non-profit organizations, restaurants, religious organizations, and other businesses without compromising on the quality of their services.
They further claim to offer competitive pricing models without extra costs. According to the firm, this has been one of their main value propositions. The firm added that their OnPay platform has become more powerful during the past few years. 
Conclusion
As covered in this guide, the most productive companies realize the importance of implementing the most effective HR strategies. One of the most important aspects of this process is selecting the best Staff Management Software for HR teams, which are now spread across multiple jurisdictions. Ensuring that your firm is following applicable regulatory guidelines and recruiting the most talent professionals is vital to the success of any business organization.