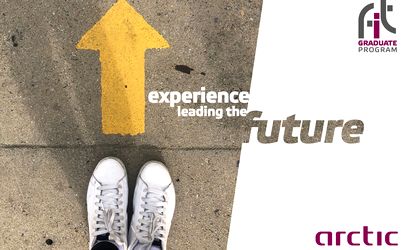 Arctic, the leader of the Romanian home appliance market, launches the Future In Talent (FIT) Graduate Engineering Program aimed at technical master's degree graduates who want a successful career in the company after completion of an intensive 3-year development program.
This pioneering organizational project is part of the company's talent management and development strategy. The FIT Graduate Engineering Program will start in October 2021 with 20 graduates from both Romania and Turkey.
The selection process was launched last week at three technical universities in Romania: Politehnica University of Bucharest, Valahia University Targoviste and University of Pitesti. In Turkey the selection process will target Istanbul Technical University, Middle East Technical University, Boğaziçi University and Koç University. The graduates will be recruited taking into consideration several criteria: the grades in the final year of study and the grade of the MA thesis (at least 8), no exam resits, extracurricular activities and a letter of recommendation from a university professor.
The program offers a personalized development plan, a mentor and a comprehensive training curriculum designed to provide graduates with practical experience and education beyond the university lab, with a focus on leadership development.
The first two years will be dedicated to the consolidation of technical skills and preparing for first line expert roles. After on-boarding, the graduates will go through a 15-month rotation period in five different departments at the two Arctic factories in Găești and Ulmi, followed by an eight-month period dedicated to project management.
An additional optional year is dedicated to those who prove potential and wish to develop their leadership skills. The graduates will gain international experience through an intensive six-month group assignment in a selected department in the Arçelik group. The final phase requires completion of a project on a subject decided upon together with department managers at Arçelik and Arctic.
"Education, advanced learning and professional development of employees are among our top priorities, as they are essential in order to adapt and respond to changing global conditions. Romania is rich in top technical talents and the Future In Talent Graduate Engineering Program is an opportunity to invest in the country's future while growing Arctic's next leaders. Attracting new-generation talent cements our leadership position and brings us one step closer to turning Romania into a regional production hub", stated Murat Büyükerk, Chief Executive Officer Arctic.
"In our competitive industry, the skills required are changing rapidly. We aim to identify top talents with high leadership potential, take their education to the next level, both in terms of technical and soft skills, which will in give them the oppotunity to excel in our company. As one of Romania's top employers, we continuously innovate our training, development, and leadership programs. The FIT Graduate Engineering Program is a natural extension of our other programs such as the Fresh Start Internship Program or TechPro Academy and is designed to sustain the current organizational growth and cultural transformation", added Maria Tătaru, HR Director Arctic.
Candidates can register by following this link: https://live.peoplise.com/arctic/Application/Landing/4e973a6c-f015-42b4-a69c-7689611e4f9a