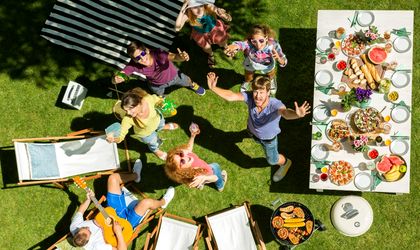 Accor, world-leading hospitality group, announces its recruitment and professional growth plans for the upcoming years, in line with the group's dynamic development pipeline in Romania. The group, which now employs more than 950 people in the country, will add over 600 new employees to its team by 2025, to support the opening and operation of more than 10 new hotels. To present its career opportunities to potential candidates and to demonstrate the unique charm of the hospitality industry, Accor will hold an open doors event in Bucharest and Timișoara, on Sunday, June 5th.
The Accor Urban Picnic in Bucharest will take place on June 5th, from 11:00 to 16:00, at Novotel, on 37B Calea Victoriei, in the Paris room and on the hotel terrace. The organisers invite participants to discover the Accor universe, with all its brands present in Romania – ibis, ibis Styles, Mercure, Novotel, Pullman. Attendees can experience their first career coaching, learn how to make coffee like a barista, have fun and collect unique moments in cool videos with Video Booth 360, which they can then share on social media.
In Timișoara, Accor hoteliers will meet all those curious or passionate about hospitality on June 5th at ibis Timisoara City Center, 18 Coriolan Brediceanu Street, from 11:00-15:00. They will have the opportunity to discover the Accor brands in Timișoara, ibis and Mercure, meet hospitality professionals, participate in various presentations and demonstrations. Accor Urban Picnic in Timișoara will include a gastronomic demonstration with Chef Enzo, participant of "Chefi la Cuțite" TV show, a bartending session with Ede Fonagy, Fratelli bartender – mixology and flair-bartending artist. The experience also includes an organised tour of Mercure Timisoara, one of the most innovative hotels in Romania, the first property in the country to achieve Breeam Outstanding certification.
The two events will provide an opportunity for those interested in a future in the hospitality industry to discover the career opportunities in Accor hotels and the benefits the group offers to new employees.
"Hospitality offers more than the perspective of a job, more than a career. It is a way of life. At Accor, we call our hoteliers "heartists", because they shape experiences and paint memories in the hearts of travellers. On Sunday, we aim to meet far more than potential employees. We hope to meet new friends, partners, and reliable members of the big Accor family, which now counts more than 230,000 passionate and dedicated people worldwide." – says Felicia Dincă, Talent & Culture Manager – Romania & South-Eastern Europe at Accor.
The hospitality sector is one of the key drivers of the European economy, both in terms of employment as well as of direct contribution to the economy, close to 5% of GDP.[1] The industry employs more than 11,9 million hoteliers in Europe and is one of the friendliest environments for young people, with more than 20% of its hires below 25 years old, compared to 8,2% in the overall economy. The hotel industry is also a key player in social inclusion, as it provides a great starting point in a career for more than 30% of the total employees. Last, but not least, the hospitality industry is also a sector being significant in the employment of women. While in the overall economy 46% of people employed are women, in the hospitality sector this figure rises to 54,1%.