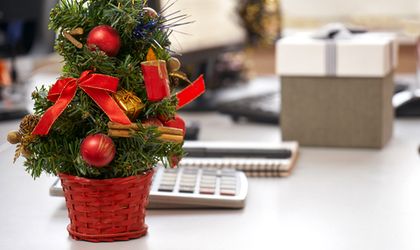 This year, nearly 32 percent of companies are planning to give employees bonuses, 20 percent will give gift vouchers, and about 15.5 percent will reward employees with specific holiday products, according to a survey by BestJobs.
At the same time, three out of five employers are organizing the company's Christmas party during this time, giving the team a moment of fun and relaxation, besides other thematic activities such as tree decoration together with the team (35 percent) or various thematic workshops for creating ornaments and Christmas decorations or cookery and cakes (19.5 percent).
Also as a reward, nearly 10 percent of employers give their employees gifts for their children, and many have proposed to offer additional free days during the holidays, the BestJobs poll shows. And one third of employers encourage employees to be Secret Santa for one of their colleagues, mostly in smaller companies or, at multinationals, at department level.
On the other hand, most employees (58 percent) prefer cash benefits in the form of a bonus, while 24 percent say they would like more free days during holidays to spend with their family and friends. Even though Christmas parties remain a constant tradition among companies, employees are no longer interested in this type of benefit; only for 4 percent of respondents say the Christmas party is among their preferences.
Benefits of up to RON 500, just like in 2017
Employees in 36.6 percent of the companies taking part in the BestJobs poll will receive bonuses of up to RON 500 this year, as the value for all rewards awarded by employers. In another 7.7 percent of the companies, the benefits will be between RON 500 and RON 1.000, while only 11.3 percent of the employers are more generous, with bonuses and bonuses of more than RON 1.000.
At the opposite end, 14.1 percent of companies will reward a maximum of RON 100. The good news is that in 23.2 percent of companies, these holiday benefits are granted to all employees regardless of the company's financial performance in the current year, while 21.1 percent of employers determine the value according to the company's evolution and profits earned.
However, half of employers claim that the benefits they have planned for this year will have similar value to last year's and only 14 percent of companies have reduced their Christmas bonus budget in 2018. 
Photo: dreamstime.com