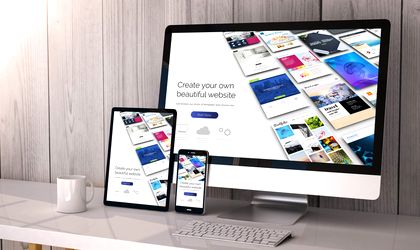 Starting a business website can seem like a daunting task, but it doesn't have to be. If you plan to run a business online or are in the process of starting one in 2023, you will obviously need a website. The good news is that starting a business website has never been so easy, thanks to the advances in technology and services. You certainly do not need designer expertise or website-building experience to build a website for your business. With the right planning and approach, it can be a straightforward process.
The first step in creating a business website is to determine its purpose of the website. What information do you want to share with your customers? How do you want to engage with them? Answering these questions will help you develop a clear vision for your website and guide your design and content decisions.
Next, you'll need to choose a domain name and hosting provider. A domain name is your website address, and hosting is the service that makes your website available on the internet. Many providers offer both domain names and hosting services, and you can often purchase them together at a discounted price.
Once you have your domain name and hosting set up, it's time to start building your website. There are a few different options for creating a website, but two of the most popular options for small businesses are website builders. It is all about finding the best website builder that meets your needs. Website builders are user-friendly, drag-and-drop tools that make it easy to create a website without any coding experience.
If you opt to use a website builder, you'll need to choose one and sign up for an account. Many website builders are available, and it's important to research which is best for your business. It is all about finding the best website builder that meets your needs. Once you've signed up, you can choose a template and start customizing it to suit your business needs.
Themes are pre-designed templates that you can use to create your website. Just choose a responsive theme (meaning it will look good on mobile devices) and has the functionality you need for your business. Once you have your theme in place, you can start adding content to your website. This could include text, images, videos, and other media. It's important to keep your website organized and easy to navigate, so it's a good idea to plan out your content in advance. Finally, testing your website thoroughly before it goes live is important. Check for broken links and spelling errors, and make sure all the forms and functions are working correctly.
Starting a business website is much easier than you think. By following this guide, you can have a website up and running in no time. It is important to have a clear purpose, choose the right platform, and have a consistent design while adding the right content. It is important to regularly maintain the site and ensure it is updated with the latest information and security updates.
Photo: Dreamstime.com