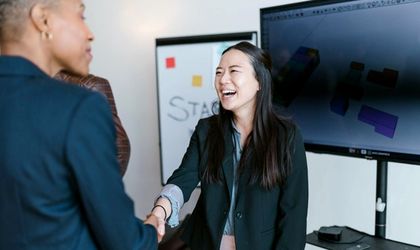 Like most countries, Romania's business world is bouncing back after the constant blows of the COVID-19 pandemic. In 2022, the southeastern European country peaked at an estimated output growth of 6.5%.
Experts predict the country's gross domestic product (GDP) will increase by 1.4% in 2023. New business owners and founders are hopeful despite licences and legislation challenges. New solutions have also emerged to make business formation much smoother and more efficient.
This article covers Romania's limited liability company (LLC), its benefits, and establishing an LLC in the United States.
Societate cu Raspundere Limitata (SRL)
Business structures are essential elements for starting an enterprise besides product ideas or finding investors. Founders may consider establishing a corporation, sole proprietorship, partnership, or limited liability company.
Each of these structures offers different rules for ownership, which party takes in the burden of business liabilities, and which entity pays taxes. When processing business registration, founders can also expect distinct requirements for their chosen business structure.
Of the four or more business structures, the limited liability company (LLC) or Societate cu Raspundere Limitata (SRL) has grown in popularity over the years. This structure found fame as more founders realised the various benefits of SRL.
Benefits of SRL
Numerous business owners are attracted to SRL because it limits company liabilities to capital participation. This means unfortunate events like bankruptcy or debts will not impact shareholders' and owners' assets.
Furthermore, an SRL requires low taxes. If the business has yet to include employees, it only needs to pay a 1% income tax plus a tax on dividends. If the company has at least one employee, it must pay 3%.
Besides low taxes and limited liability, SRL allows business owners to offer different classes of company stock. So, SRLs are an excellent choice for businesses that want to pay a lower tax rate or ensure their assets are protected.
Getting Started With Your SRL
To start an SRL, founders need a capital of at least 200 lei (45 euros) in the bank. Business owners must submit filing documents to the Trade Registry and can be finished in three days, with complete and signed copies. Another mandatory requirement is to have a registered accountant for bookkeeping.
An SRL may consist of a maximum of 50 members and have one or more directors. These directors can have full or limited powers, be local or foreign citizens, and be appointed for a limited or unlimited period. Founders can release dividends on a quarterly or yearly basis.
Considering an SRL (or LLC) in the U.S.
Some business owners think about expanding early in business formation. Considering the long history of commercial partnerships, a common destination for incorporating Romanian businesses is the United States.
In the States, the equivalent of an SRL is a limited liability company (LLC). And because U.S. LLCs don't require citizenship to operate a business, Romanians can operate an LLC in the country. The process for setting up an LLC is straightforward. However, getting an LLC service can speed up the registration process and allow business owners to keep it running fast.
Why Should You Get LLC Services?
To ensure a successful LLC filing, you must be diligent with your research. For one, filing requirements could also differ by state. Considering the amount of paperwork that goes with it, founders might want to save time by availing of LLC services.
Several LLC services offer to do the heavy lifting regarding paperwork. But to make the most of such services, you need to select an LLC service partner who can guide you throughout the process. Some LLC services offer a template and can help you structure your LLC process.
Selecting the LLC services that meet your business's needs and fit your budget is a crucial step for filing an LLC in the United States. One LLC partner that offers speed and efficiency is doola. Its services cover getting a registered agent, a U.S. address, an EIN (Employer Identification Number), a phone number, and Internal Revenue Service tax filings.
A Few Things To Consider
When you need clarification on the LLC process, go back to your business idea. This approach will keep you rooted in why you're starting the business in the United States. Check your business community and fellow Romanian founders to close the information gap.
Assess and reassess which parts of the business formation you'd want to improve. And if an external or expert opinion can help you push your business ideas forward, then get that opinion. Check out legitimate sources, connect with industry experts, or join seminars and relevant events.
The main point here is you want to avoid getting stuck too long. Your SRL or LLC's success relies on your ability to maintain that momentum. But try not to be impatient; business formations involve many moving parts, and pushing for a strict timeline will cause you and your business partners unnecessary stress.
Setting Up Your SRL/LLC for Success
The business landscape in Romania is enjoying a substantial recovery period. Establishing a Societate cu Raspundere Limitata (SRL) involves numerous benefits, from low taxes to limited liability. But building an SRL or LLC in the United States is also a great idea, which can yield significant returns in the long run.