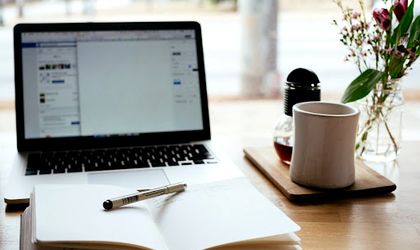 Data science is an area of study that deals with the data analysis process. Because it is science-backed by today's technological advances, there are a lot of opportunities for professionals working in this field. This is one reason why a lot of businesses find value in hiring a data scientist or giving some duties to an existing member of their staff who has interests and knowledge in this area and more business owners are studying it in order to grow their business. It does not matter if you are a business owner who is new to the world of data science or an existing staff member with different responsibilities and duties, what matters most is that you keep your skills updated and elevated. Here are some tips on how you can level up your data science skills.
Take An Online Course
There are a lot of avenues for those who want to learn more about data science and the best place to start learning is through an online course. There are many courses that you can take, whether you want to study master of data science online or study data analytics. They all vary but most of them can be completed at your own pace and in the comfort of your home. It doesn't matter if you are a complete novice when it comes to data science, there is an online course for you. Here's how to choose the right course for you:
Duration 
The duration of the course can vary from a few hours to a few months. Choose one that fits your schedule and lifestyle so you don't have to miss out on other important aspects of your life in exchange for learning something that's not beneficial to you.
Experience 
If you already have experience with data science then it will be easier for you to study something more advanced. This means taking on an online course that does not suit your level is a waste of time and money. You have to choose a course that will fit your experience so you can be productive from day one.
Credibility 
Choose an online course from a credible source because this will ensure that the information it contains is relevant, up-to-date, and accurate. In order to know if a course is credible or not, check out what others who enrolled in the program think about it and see if they found value in it. Also, check if there are any complaints about the course and take these complaints into consideration when making your final decision to enroll.
Read 
Another way to level up your data science skills is by reading. There are a lot of books and articles that can help you learn more about this area and the best thing about reading them is that it doesn't take time out of your schedule. All you need to do is find some free time and grab a book or open your laptop and start browsing the internet. Here are some things you can do to make the most out of your reading experience:
Choose Your Topic Carefully 
You have to choose a topic that is relevant to your job so the information you find will be beneficial for you. For example, if you work as a content writer then reading about data journalism might not be helpful because it is not in your area of expertise. On the other hand, if you work in a tech company then learning more about data engineering might be a good idea.
Choose A Good Time 
If you have a busy schedule then finding some time to read will be difficult so it is important that you allocate an hour every day for reading. This way, you do not have to find time for it every day which will make the entire process less daunting. You need to know how to read effectively because you can spend your whole hour reading something that is not useful.
Set A Goal 
Setting a goal for the duration of time you want to read and the number of pages you want to read will help keep you motivated. This way, you can track your progress and always have something to work towards which means there is more chance that you will complete what you set out to do. You can set weekly or monthly goals for yourself and share your progress with friends or family members on social media to stay accountable.
Do An Internship 
Working as an intern in the data science industry is a great way for you to gain hands-on experience with real projects. This is important for your career because working under professionals will help you learn more about what it takes to do the job and how to handle certain situations that might arise. You can apply for vacancies on Data Science Jobs online or directly contact companies that are hiring to find out if they need someone like you to work for them as an intern. Here's how to get the most out of an internship.
Be On-Time 
If you're going to be working as an intern, then it is only fitting that you arrive on time every day because this will show your employers how responsible and dedicated you are. You do not want to miss out on the opportunity because you were late for work a few times. If punctuality is something you struggle with then set your alarm earlier and prepare for your commute on time. This way, you will always be punctual and not let your employers down.
Listen To The Instructions Carefully 
Your employers might provide you with instructions or guidelines before starting a new project and it's important that you take the time to read them carefully. If there are other people involved then make sure everyone knows what they need to do and always ask questions when necessary. Always make sure you follow the instructions provided because this shows the company that you are proactive.
Be Proactive
A proactive person is someone who takes responsibility for their actions and tries to be self-sufficient when doing a task. You should always try to solve your own problems when possible and take the initiative to do something instead of waiting for someone else to tell you what to do. This will make your internship easier because you will be able to move forward without being told what needs to be done every step of the way.
Data science is a broad field and can be difficult to understand when you first start out. To make the learning process easier, take an online course. Also, try picking an interesting topic to read about so you can learn something new while staying motivated. It is also important that you read at a time that is convenient for you and set a goal to keep track of your progress. Finally, if you want to become a data scientist then it is a good idea to work as an intern in the industry you're interested in. This way, you can learn more about what it takes and how to excel in this role.