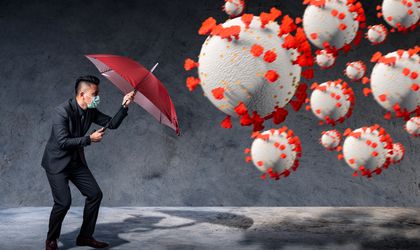 Remote work, online meetings and events, empty office towers are all parts of the current reality, but many of them could continue past the end of the COVID-19 pandemic. Many companies have rethought their way of doing business, and many employees have found a more balanced lifestyle – with more time to spend with their families, for example.
By Sorin Melenciuc
This new reality is having a huge impact on business practices. The first notable shift refers to the fact that most business are now more reliant on remote work instead of office-based work. This has become the norm within less than a year, since the beginning of the COVID-19 pandemic, and there are many reports that prove it.
According to real estate consultancy JLL, Romania's office rental market fell by 36 percent year-on-year in 2020, to around 300,000 square meters. The main causes of this sharp decline include the shift to remote work and the financial difficulties that many companies have experienced during the pandemic. In fact, many sectors, from hospitality and tourism to the auto industry, registered much lower revenues last year, so the appetite of many businesses for renting office spaces has plummeted.
The shift to remote work
Across the globe, most companies are intensely debating the issues raised by the work-from-home experiment, and many businesses are planning substantial shifts as a result. "With workforces now located in kitchens, basements, and attics, what will happen to all those sleek urban office towers and their glossy suburban counterparts? The answer has to start with their current tenants. (…) In the short term, 70 percent of corporate-centre executives plan to reconfigure office space, as do 54 percent of business-unit leaders. Over the midterm, 30 percent of corporate centres want to terminate existing leases early, compared to 14 percent of business units," a recent McKinsey global report indicates.
However, the shift to virtual working was already underway at the beginning of the pandemic in many organisations across the globe, but experts now anticipate that it will remain a very common practice.
A recent Deloitte report shows that 75 percent of CFOs in the Netherlands have said that they intended to shift at least 20 percent of previously on-premise employees to permanently remote positions after the end of the pandemic. "In addition to our workspaces, the way we work has been heavily affected, ranging from minor changes (adding a video element to a meeting) to major ones (fully virtual check-in at hospitals)," Deloitte experts write.
Another key factor for the future of working is that the pandemic has accelerated a trend that had been growing in the last decade. Many people are transitioning from being full-time employees to part-time jobs, self-employment or freelancing. In Romania, more than 300,000 individuals have part-time jobs, which allows them to spend more time with their families or enjoying their hobbies.  But the pandemic seems to have accelerated this shift. In August 2020, the Romanian eJobs platform registered a 10 percent increase in applications for remote and part-time jobs.
However, office work is not going to disappear, despite the pandemic, because some types of businesses and activities simply cannot be operated remotely. In these sectors, experts suggest that the pandemic has had an impact on productivity.
"Those who continued to work on site during the lockdown experienced a slowdown in work and productivity (aside from vital sectors), in tandem with strict social distancing and personal hygiene measures. Supply chains have also suffered, due to severe disruptions brought on by halts in production and transportation," the report indicates.
These current realities are putting pressure on business leader to reimagine what the workforce means beyond traditional work arrangements. "It means using the strength of the open talent economy to connect furloughs and layoffs to immediate opportunities. Business leaders should also be actively planning for the use of the alternative labour market to scale, recover, and thrive," Deloitte experts suggest. Official data in many countries showed that, with the onset of the pandemic, flex-workers (such as self-employed or freelancers) were the first to be affected. Now, experts expect COVID-19 to increase many businesses' appetite for flexible workers.
Innovate or die
Another consequence of the pandemic, as seen in other crises as well, has been the rising importance of innovation as a key factor of business survival. Whenever a market shrinks, the more innovative businesses generally have a better chance to survive on the market, while less innovative ones tend to disappear.
This principle applies even in sectors like restaurants or hotels, where innovation is not always so obvious. In Romania, hotels and restaurants lost at least a third of their revenues in 2020 compared to 2019. Many businesses in this sector just left the market last year due to the crisis, but many others survived.
According to current projections, indoor dining in restaurants may not return to pre-crisis levels for months – possibly even years. For full-service restaurant operators, developing a new long-term economic model becomes crucial.
Based on practices seen in many countries during the last year, experts suggest there are opportunities to optimise takeaway and drive-through operations and re-engineer menus and pricing. This might include finding the right balance between special offers and "high-margin items such as appetizers, sides, desserts and beverages," according to a McKinsey report.
Such strategies can already be observed in Romania as well. Two local entrepreneurs, the owners of a fine dining restaurant called Anika in Bucharest, have managed to survive during the pandemic thanks to an innovative strategy.
"We change the menu at Anika on a monthly basis, in order to follow seasonality and remain creative. (…) During the state of emergency, we reorganised and decided not to start food delivery, but to create a set of five jars which contained meat, our smoked trout paté, duck confit, cherry jam, etc. It was a real success and it allowed us to stay afloat," Alexandru Dumitru, one of Anika's owners, told HORECA magazine.
Digital acceleration
The current pandemic is also accelerating business digitalization, a very visible factor even before the healthcare crisis. Experts are calling the ongoing trend the Fourth Industrial Revolution (or Industry 4.0), promising huge wins for companies that have already scaled digital technologies.
"Those that were still scaling faced a reality check, and 2020 was a wake-up call for those that hadn't yet started on their Industry 4.0 journeys," a McKinsey report notes. This applies to many sectors, and one of them is healthcare. In fact, the pandemic has hugely accelerated the growth of digital healthcare. In 2020, almost half of US patients used telehealth services, compared to just 11 percent a year earlier.
This surge in telehealth is a huge business opportunity that digitalization helps. India's Apollo Hospitals, comprising more than 7,000 physicians and 30,000 other healthcare professionals, launched a digital health app called Apollo 24/7 in early 2020. Within six months, the app had enrolled four million people.
Such business opportunities are appearing across the globe, including in Romania.  A local startup launched in 2019, SanoPass, is now the largest platform that connects medical clinics and companies in Romania. The company now has more than 10,000 subscribers, a fivefold increase compared to the beginning of the pandemic, in March 2020.
"The company's evolution in 2020 was the result of a strategic change. This meant a repositioning of the company from a subscription issuer addressing employers only to a platform that digitizes, connects, and individualises all preventive medical services, which generated advancement both in the area of companies as well as in the individual customers segment," says Andrei Vasile, the CEO of SanoPass.
Many experts forecast that these trends and strategies will become even more important in a post-COVID -19 world, because of how much the pandemic has accelerated digitalization.