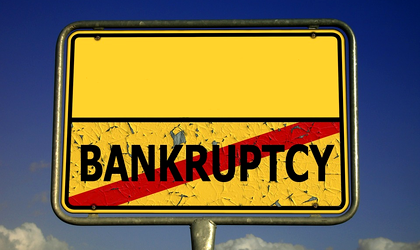 Starting your own business is perhaps one of the most exciting decisions a person can take. However, as with all things in life, the difficulties can quickly settle in and you can find yourself trying to overcome bankruptcy. This can start a chain reaction where the banks would tighten the reins on borrowers and you can find yourself in an unpleasant situation. Even so, you can still manage your finances. That said, here is how you can overcome bankruptcy. 
Set a Plan
In order to succeed, you will need to start by setting a comprehensive plan. This will include rules and regulations that will govern your business's workflow. Typically, your plan will help you with the pricing of your products and set a clearer image for the future of your business, which should inspire the confidence of lenders. This way, you will have increased your chances of finding a lender or investor. Moreover, you will need to determine how much you need to pay creditors each month. This will help you determine exactly how much you need to survive. Furthermore, you will have to compile a detailed list of your operational costs. Since customers are typically drawn towards quality, a good plan should look to improve the quality of your products or services. So, focus on developing a cost-effective product that appeals to buyers.
Debt Payments
Naturally, your debt payments will be the center of your plan. However, when tackling your debts, it is wise to prioritize your payments based on the interest rate. Start with the highest and work your way down to the lowest. But if a debt has been guaranteed, then it could endanger your personal assets, so you should put them first.
In addition, you should look into the bankruptcy laws of your region. For instance, Canada's laws allow the debtors to obtain what is known as a 'discharge' from their debts while treating creditors equally. You can find out more about how you can be relieved of your financial obligations should you be unable to make the payments. You can also use a bankruptcy proposal, which lets the debtor restructure their finances and can often reduce the payments or extend the payment plan.
There are also other things you should know about bankruptcy. For example, you should get familiar with how to file for bankruptcy in your area to streamline the process and obtain the best possible outcome for your business. If you want to get the most out of debt payments by filing for bankruptcy, it's best to work with an experienced bankruptcy lawyer for assistance. 
Cut Unnecessary Costs
Now that you have drawn up your plan and arranged your payments, you will need to start by focusing your attention on cutting any unnecessary costs. Start by identifying the parts that drove your business into bankruptcy. It could be that these parts are over-utilized or it could be that you are using high-cost materials, which could be substituted for more economical options.
This is why you should review your inventory regularly. By doing so, you can determine which products are no longer profitable and remove them from your storage. Consequently, it allows you to cut costs and reinvest your capital in other essential aspects of your business. 
Additionally, customers not paying on time can complicate your situation. Should that be the case, you will need to ramp up your debt collection efforts. Remember, if your business can be managed virtually, then cut down on your office rent costs. With this in mind, you should also think about going paperless to save money on storage costs and office supplies. If your business has IT needs, consider outsourcing them. This keeps you from having to hire an in-house IT team and spend a lot of money on tools, recruitment, and other related costs.
Lastly, if you work with multiple vendors, consider consolidating them. Instead of juggling several, look for the ones who can supply the materials you need and negotiate better deals with them. Doing so helps you reduce unnecessary costs, which is important in overcoming bankruptcy.
Borrow 
Ideally, you will not need to borrow too much, however, that could change depending on the magnitude of your savings. Nevertheless, the money you borrow should not be too little or too much and should be proportionate to your exact needs. That said, make sure to precisely measure the amount of capital you need to sustain your business's operations. This will require extensive research on the costs of your product or service, company expenses, and budget. 
Borrowing too much can endanger your survival, seeing as many financial institutions will take advantage of shrinking markets and liquidity problems by selling more debt. This is especially true in regions that exercise criminal penalties, which may be imposed on shareholders that are unable to pay off debts. The high-interest rates can be difficult to keep up with. For this reason, it is important to reduce your loans and in return, minimize your loan payments. 
Another thing you can do is to consolidate your loans into one payment. This allows you to reduce your monthly costs and does not harm your credit. If you have a good credit score, a repayment plan, and a high interest debt, consolidating your debt may be an excellent option. The best way to do that is by gathering several short-term loans and consolidating them into a singular long-term package. You can also work with a reputable debt consolidation or debt relief company to consolidate your debts and make repayments much easier for your business. Reklama: Stiklo konstrukcijos, pertvaros, turėklai, laiptai, terasos stogai, stumdomos stiklinės durys
When you are working to overcome bankruptcy, you must understand that the solution is not to get more money. Instead, you should focus on improving the quality of your service or products in order to attract more customers. This is because many companies fail due to a lack of market interest. Moreover, it is common for a business to drown in debts, which is why you should steer clear from massive loans. As long as you have a comprehensive plan, cut unnecessary costs, arrange your debt payments by finding investors and acquiring proportionate loans, then it should be a matter of time before you overcome bankruptcy. Remember, you can always utilize bankruptcy laws to work in your favor.