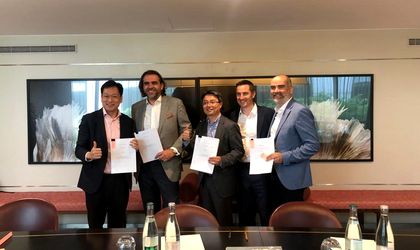 Forty Management has concluded an agreement for a new hotel development to be operated by The Ascott Limited (Ascott), one of the world's leading hospitality owners and operators with a presence in over 260 cities in more than 30 countries.
Based on this partnership, Forty Management brings this brand to Romania for the first time and it will be operated to the standards of luxury brand The Crest Collection. The construction is expected to begin this fall, with an estimated opening in the first quarter of 2026.
The Ascott Group is present in Southeast Asia as its core markets, while it continues to expand in markets such as India, Vietnam, Australia, Europe and the US, and is owned by CapitaLand Investments, the largest REIT in Singapore and one of the largest in Asia Pacific, with assets in excess of USD 65 billion.
The Central District Bucharest Hotel – The Crest Collection will have 170 rooms and a 360-degree restaurant on the 14th floor, where guests will be able to experience the life, culture and history of the capital in a unique luxury residence. According to the agreement, Ascott will operate The Crest Collection brand for an initial period of 25 years. The value of the investment in the new project is estimated at €22 million. The partnership between Ascott and Forty Management was signed on Friday in Paris, with Kevin Goh, CEO The Ascott Limited, Marcel Lindt, The Ascott Limited's Development Director for UK and CEE attending the signing.
"We have chosen to capitalize on the potential of the luxury hotel market in Bucharest and we are delighted to be setting up this new project together with Forty Management, one of the most innovative companies in Romania in terms of sustainable, mixed-use real estate developments. We are also laying the foundations today for a successful long-term partnership with Forty, based on shared values of perseverance, integrity, courage and passion to create extraordinary things", declared Marcel Lindt, Development Director UK and CEE, The Ascott Limited.
—
"La Clef Champs-Élysées hotel in Paris will be our milestone when developing this project, given its emphasis on luxury hotel services and fine-dining gastronomy, which will give the place a touch of refinement, art and elegance when it comes to new concepts of life-style," said Lucian Azoiței, CEO of Forty Management.
Forty Management is recognized as a developer of green urban reconversion projects, and this is the second hotel development in its portfolio after the one within Central District Lagoon City, in partnership with a renowned hotel operator with a global presence.