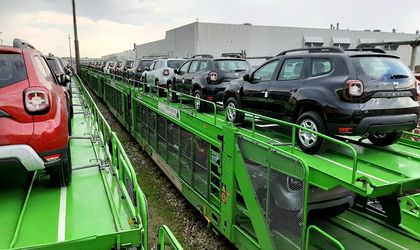 Hodlmayr added a new brand in its portfolio and  it is in charge with the distribution of all Dacia cars, manufactured in Pitesti, to German dealers – the volume is about 22,000 vehicles per year, which means up to 450 units a week.
"We have once again succeeded in differentiating ourselves due to our holistic transport concept – we are well-known in this industry for efficiency and reliability. This image and the trust that is given to us are the result of our hard work and permanent investment, over the past 17 years, in our core business – vehicle transport logistics", said Tamer Sen, General Manager at Hodlmayr Logistics Romania.
"Our multimodal concepts are providing us with a decisive competitive advantage within the group while also being an essential piece of the puzzle of our corporate vision, Go Green – Go Hodlmayr", add Johannes Hodlmayr, CEO Hodlmayr, thanking to the Romanian subsidiary for its exceptional response capability, needed for fast order processing and logistics organization.
Hodlmayr Logistics Romania
Hodlmayr Logistics Romania is the second automotive logistics company in Romania, currently counting over 200 employees. The fleet of vehicles is made up of over 100 special conveyors. The headquarters in Bascov includes a parking capacity for approx. 5.000 vehicles and provides – besides transport solutions, service and improvement and quality assurance. The turnover of the Hodlmayr branch rose last year (2018) to EUR 21 million.
Die Hodlmayr International AG is an international family business, based in Schwertberg (Austria), specialized in vehicle transport logistics. The company provides the entire supply chain – from picking up vehicles from the factory / port of entry, to delivery to car dealers / fleet owners. Approximately 1.75 million vehicles are delivered each year. Hodlmayr International AG and its subsidiaries from 16 countries have 1,900 employees. In total, the group has 800 special transport vehicles, 12 towing systems and a storage area of about 1.3 million meters for approximately 55.000 vehicles. The company's turnover in the previous year amounted to approximately EUR 285 million.