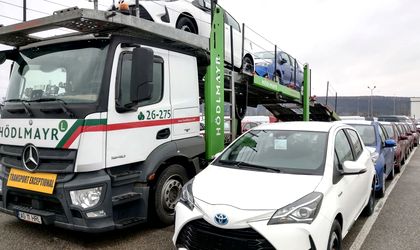 Hodlmayr Logistics Romania begins the year 2019 with a new customer in its portfolio: Toyota Romania has entrusted part of its import volumes to Hodlmayr's professional team. This ensures the complete storage of the car manufacturer's vehicles in our country and their distribution at the national level. The total annual volume of vehicles under this project is 15,000 units.
"It is an important achievement that comes from the investments we have made last year to modernize our car fleet as well as our vehicle fleet. Now we can offer our new premium customer, Toyota Romania, a storage area of ​​120,000 square meters and parking spaces for 5,000 vehicles," says Tamer Sen, general manager of Hodlmayr Logistics Romania. "Our strength lies in an intelligent global concept that is 100 percent suited to customer needs. Undoubtedly, the extensive vehicle expertise, high-quality and challenge-oriented standards that have contributed to our choice within this new project were in line with our motto: everything is possible if you want it."

"The choice of a Hodlmayr stretch company is in support of our growth plans for Toyota and Lexus in Romania, and our desire to be a mobility provider is also materialized through this logistics partnership that will bring us closer to our customers," said Edit Corcoman-Tarcolea, general manager of Toyota Romania.
Toyota Romania is the leader of the "eco-friendly" segment in Romania – with over 70 percent of the total market, thanks to the hybrid technology that equips the Toyota and Lexus models.
In the spirit of its "Always a Better Way" slogan, Toyota aims to continually improve its product and service offerings so that its customers benefit from the highest level of quality and reliability, efficiency and performance, with a special environmental focus surrounding.
Hodlmayr Logistics Romania is the second automotive logistics company in Romania, currently counting over 200 employees. The fleet of vehicles is made up of over 100 special conveyors. The headquarters in Bascov includes a parking capacity for approx. 5,000 vehicles and provides – besides transport solutions – service and improvement and quality assurance. In 2018, the turnover of Hodlmayr's branch in our country was EUR 25 million.
Hodlmayr International AG is an international family business, based in Schwertberg (Austria), specializing in vehicle logistics. The company provides the entire supply chain – from picking up vehicles from the factory / port of entry to delivery to the fleet / fleet owner. Approximately 1.75 million vehicles are delivered each year. Hodlmayr International AG and its subsidiaries in 16 countries have 1,900 employees. In total, the group has 800 special transport vehicles, 12 towing systems and a storage area for approximately 55,000 vehicles. The company's turnover last year amounted to approximately EUR 290 million.