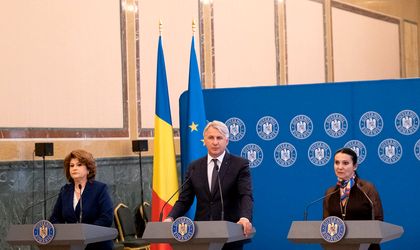 Health minister Sorina Pintea held a joint press conference with EU funds minister Rovana Plumb and Finance minister Eugen Teodorovici on the subject of the eight regional hospitals promised by the PSD-ALDE coalition, the construction of which should have started in 2017, based on the governance programme.
Pintea said that three of these hospitals – in Cluj, Iasi and Craiova – would be co-financed with European funds and that they would certainly be built, although she admitted that there would be delays, and that they would be built after 2021, but that this means that they'll benefit from a higher share of co-financing with EU money (from 50 to 85 percent), so there is an interest in delaying the projects.
EU Funds minister Rovana Plumb said that Romania has been allocated a total of EUR 820 million in EU funds for overall healthcare investments – but that won't even be enough to cover the costs of the first three regional hospitals, as one hospital alone would cost about EUR 400 million.
As for the five other hospitals promised by the PSD in the 2016 campaign, Pintea said they would be built "using other sources" of financing, including public-private partnerships.
According to the minister, the current status is as follows: the feasibility study for the Iasi regional hospital has been handed in to the Health Ministry; the study for the hospital in Cluj has been completed; in May, EIB consultants will complete the study for the Craiova hospital.
Regarding the Constanta hospital, Finance minister Teodorovici said last week that it would be built in a deal with Turkey, and that the money will come from the 2 percent of GDP allocated for defence. At the joint conference on Tuesday, he said that the money for the hospital would be added to the 2 percent for defence and it would not affect the existing funds. "The money will be allocated from the state budget at the first budget revision," he said.