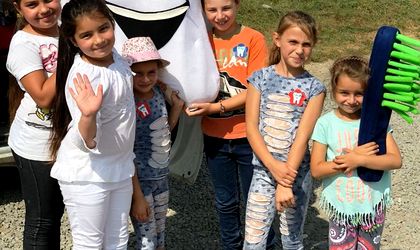 On World Health Day, the Merci Charity Boutique Association and the Vodafone Romania Foundation are launching the Cabinet and Mobile Medical Units Application (ACUMM), the first digital platform to manage mobile dental office operations. The new instrument will be used to collect the data needed to carry out a national survey on oral health of children in rural areas, conducted between March and July 2019. The Vodafone Romania Foundation finances the project with nearly RON 170,000.
The mobile dentistry team "Merciful Fairy", a project launched by the Merci Charity Boutique Association, will test the ACUMM digital platform over the next 5 months. Placemark operations include managing patients, monitoring access to dental treatment services in rural areas, identifying the most common dental conditions, analyzing severe prevented conditions by prophylaxis or using dental treatment, and estimating the value of interventions for children using the mobile cabinet infrastructure. At the end of July, the data collected from the field will be included in the study on oral health of rural children in Romania.
Preliminary data collected from July 1 to November 30, 2018 from nearly 350 children in 19 villages found that the most common dental condition is caries, with an average of 3.47 caries / child, at the upper limit of the average margin Europe. According to the World Health Organization, at age 12, dental caries affect an average of 0.5 to 3.5 teeth.
The "Merciful Fairy" program was launched in 2014 with the endowment of the first mobile dental office and benefited from the support of the Vodafone Romania Foundation through the programs "Professional Volunteer" and "Fund for Good Deeds". The total investment of the Vodafone Romania Foundation in this project has so far amounted to almost RON 340,000. The mobile office has 18 months of field consultations and will continue its journey through the country in the coming months to reach 1,800 children by mid-2019.
The Vodafone Romania Foundation is a Romanian non-governmental organization with charitable status, distinct and independent of the company's business operations, set up in 1998. In its over 20 years of activity, the Vodafone Romania Fund has financed 1,132 programs run by 730 NGOs the whole country in the fields of health, education, social services. The projects had nearly 3 million beneficiaries – children, young people, elderly, physically, socially or economically disadvantaged people. So far, Vodafone Romania has invested EUR 30 million in projects by nonprofit partners.
Merci Charity is a nonprofit organization set up in 2012 to support humanitarian causes through mobile health and education projects, focusing on children with medical and social problems.