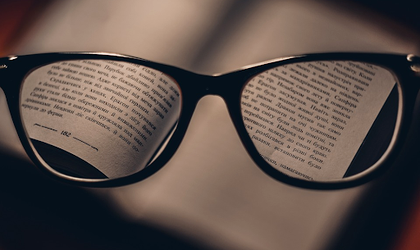 Choosing the right glasses to correct your reading vision can be an overwhelming experience. One drugstore or pharmacy alone can flood you with countless reading glasses to choose from with different materials and styles. So, as a first-timer, how can you choose the right pair of glasses for you?
A pair of reading glasses don't come with a cheap price tag. In fact, the average cost of prescription eyewear with single-vision lenses costs more than $200. Depending on the material and other factors, it could even cost you up to a heaping $800 or more. That said, finding the right pair is important so you won't regret your decisions and won't waste your money.
If it's your first time buying your reading glasses, here are some tips to help you find the right pair.
Know Your Face Shape
Eyeglasses come in various shapes and sizes. Unfortunately, not all of them might fit your face shape. What might look good for your friend will probably not work for you if your face shapes are different from each other.
Remember, you'll be wearing these glasses for a long time, so you'll want something that will flatter your face. So, one of the first things to do is to know your face shape. To determine your shape, all you need is a tape measure and take the following measurements:
Forehead – from the peak of one of your eyebrows' arch, pull the tape to the peak of the opposite side and record the measurement.
Cheekbones – place the tape measure across the pointiest part of your cheeks, just below the outer corner of each eye, and pull it to the opposite side.
Jawline – place the tape measure below your ear, where your jaw angles upwards, to the tip of your chin, and multiply your measurement by two.
Face length – measure your face length from the center of your hairline down to the tip of your chin.
If you have a round face, your cheekbones and face length have the same measurements. If you have a square-shaped face, you'll notice that all measurements are nearly similar. If you have an oblong face, however, your face length measurement should be the largest, and your cheekbones, forehead, and jawline's measurements are descending.
If you have a diamond face, on the other hand, your jawline's measurement should have the largest measurement and your forehead is the smallest. If you have an oval face shape, your face length should be larger than the width of your cheekbones and your jawline should be smaller than your forehead.
Find Your Frame
Again, there are no one-size-fits-all reading glasses as most frames were made for certain face shapes. So before your trip to your nearest wholesale sunglasses and reading glasses supplier, make sure that you know the right frame for your face. This way, you can balance out your face or make your best feature stand out more.
If you have a square shape, you'll want a pair of glasses that has rounder frames to soften your angular features. You also need a thinner frame so it won't overwhelm your face. Make sure that the width is a bit wider than your cheekbones too.
For a round face shape, you'll need to sharpen your features and you can do that by opting for rectangular frames. Frames with bold angular lines will balance your face too.
Those with triangular face shapes, on the other hand, should go for frames with detailing on the upper portion, such as browline or cat-eye frames, with a width that's slightly wider than the jawline. This will help balance their face's proportions.
For diamond face shapes, rounded or oval-shaped frames will look good. These will help in drawing the attention away from the angles of their face.
Those who have an oval-shaped face, on the other hand, are the most fortunate ones. Because their face shape is well-balanced, they can wear any frames they want as they don't have to worry about sharp angles on their faces that the frames might incorrectly highlight.
Know What Lens You Need
Another thing to consider when choosing the right pair of glasses is the lens. There are different types of lenses: the single vision, bi-focal, tri-focal, and progressive lenses. Each of them serves different purposes and your ophthalmologist can help you choose the best one for your vision. But for your reference, here's how they differ from each other:
Single vision – these are lenses designed to correct your eyes' distance vision. The good thing about these lenses is that you can set them to any focus.
Bi-focal lenses – these lenses have a correction on the bottom half of the lens and a corrector for distance on the upper half.
Tri-focal – these lenses have three sections: distance, intermediate, and near vision; hence the name.
Progressive – these lenses have a smoother transition between the distance and near focal areas compared to the other types of lenses.
Choose a Protective Coating
You might not notice it but, yes, eyeglasses do come with coatings. There are three types of protective coatings you can choose from: the anti-scratch, anti-reflective, and photochromic. These coatings help make your eyeglasses last longer, which is vital since they are pricey.
Anti-scratch coatings, as its name suggests, help keep scratches from your lens at bay, especially if you opted for plastic lenses as they scratch easily. Anti-reflective coatings, on the other hand, reduces glare and other distracting reflections. Photochromic lenses, on the other hand, protect your eyes from UV rays.
Decide Between Ready-Made and Custom Glasses
Ready-made and custom glasses come with pros and cons. The former sure is a cheaper alternative yet they are merely one-size-fits-all glasses. On top of that, they don't come with progressive, multi-focal options, and they're not ideal if your eyes have different prescriptions.
Custom reading glasses, on the other hand, can meet all your needs. The downside is they are pricey.
Reading glasses are expensive. So, finding the right fit for you is crucial. These tips, however, will help you avoid pouring your money down the drain and get you the perfect fit.