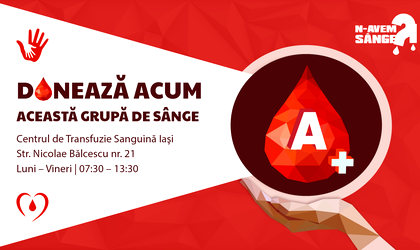 This spring, the Hem Association in partnership with the National Institute of Blood Transfusion (INTS) is launching, within the national program "Don't we have BLOOD?!", a segmented communication campaign targeting donors by blood group and RH, respectively. This way, donors with a certain blood group and RH, in emergency, due to the large number of operations/treatments, in the area of ​​a certain Transfusion Center, will be invited to donate.
The Pilot campaign starts Monday, March 6, and will cover, in a period of two weeks, the cities of Iași, Timișoara, Bucharest and Constanța.
"Based on our experience of more than 7 years, since we have been running the national program "We don't have BLOOD?!", we have been shown time and time again that the donation should be done in a much more judicious way, in relation to blood needs from hospitals. To quote one of the important #bloodfluencers of our community, "blood is stored absolutely perfectly on the donor's vein". It therefore deserves to be donated to centers in direct relation to the need in hospitals, generated in turn by operations/treatments. For this reason, we started this pilot project, to primarily invite donors from alert groups.

As it goes without saying, not all blood groups go on alert, in all counties in Romania, at the same time. Because not everything is operated on, it is not treated the same. We are thus putting at the disposal of the National Institute of Transfusion both our know-how, as communication people, and the resources we have managed to collect, through the goodwill of our partners and sponsors, as well as individual donors, individuals.

We really want to succeed and prove once again that Romanians have blood, that they have the courage and wisdom to understand that health is a gift. A great GIFT!" said Marian Costache, #bloodfluencer co-founder "We don't have BLOOD?!", President The HEM Association.
—
"We appreciate the consistency with which people of various professions and backgrounds have put themselves in the service of encouraging blood donation, because its importance is extremely high, regarding the health level of the entire population, whether we are talking about patients, directly, or that we are talking about healthy human donors.

Recurrent donation implicitly provides monitoring of the health status of the donor and last but not least helps the donor to achieve a good state of mind. We are glad to have with us both passionate people in the service of good, as well as professional communicators, who today are with us in front of a premiere. It is wonderful to be able to address dedicated donors, where certain groups are on the alert.

We are grateful to all the partners and volunteers of the N-avem SĀNGE?! program. and we hoped to be able to demonstrate that this communication model is an effective one," said Tania Mihalcia, Director of the National Blood Transfusion Institute.
The Segmented Communication Pilot Campaign of the need for blood starts on Monday, March 6, it will cover the cities of Iași, Timișoara, Bucharest and Constanța in a period of two weeks and will include, from the point of view of the media channels, Radio, Outdoor Digital and Mobile, as well as Social Media.
Don't we have BLOOD?! is the only program of the HEM Association and represents a broad effort to inform and raise awareness of the need for blood. The main objective of the whole endeavor is to increase the number of loyal blood donors and to integrate blood donation into the routine of a healthy lifestyle.