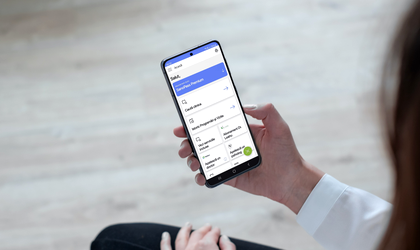 Consumers who own a Visa card issued in Romania and enroll it the SanoPass app will receive 10% instant cashback, through the Visa Direct service, for all card transactions made through the platform until April 30, 2023.
Visa cardholders will also be able to access free of charge fitness services in the SanoPass network of partners, as well as telemedicine consultations and investigations, for one month after enrolling their card in-app.
SanoPass is a med-tech platform that unifies and digitizes access to health and sports, in over 1,000 private clinics, both proximity clinics and large networks, and over 150 gyms. SanoPass provides access to over 11,000 physicians, guaranteeing appointments with national coverage in a maximum of 48 hours. Through its national network of partners, SanoPass provides medical and fitness services for 50,000 subscribers and 30,000 active users.
"In the next 6 weeks, the users of the platform, as well as other patients or clients of SanoPass partners, will find in the clinics' lobbies the SanoPass QRs in a new format, personalized with information related to this campaign. We address all those who enter a partner clinic or gym and hold a Visa card, offering them an app payment alternative, simpler and more efficient than cash. We are also introducing a novelty in terms of offering cashback, which is granted instantly through the Visa Direct service", said Filip Andrei, Medical & Fitness Network Director Romania & Moldova at SanoPass. "We want to democratize access to health and encourage an active life through digitalization, and the SanoPass platform now brings this goal closer to millions of Visa cardholders in Romania."
—
"Through the partnership with SanoPass, we expand the benefits available on Visa cards in an extremely important area in the current context, namely medical services, through a transparent, simple and instant mechanism of rewarding customers through the Visa Direct platform. We are convinced that the new benefit will be received with enthusiasm by customers, who are increasingly paying attention not only to how they pay, but also to how they are rewarded", stated Elena Ungureanu, Visa Country Manager, Romania.
The SanoPass network includes medical centers such as Sanador, Emerald, Sante Clinic, Synevo, Affidea – Hiperdia, Arcadia, Medstar, Pelican Hospital and others, while partner gyms include StayFit, 700 FIT, Sweat, Neby Fitness, Fit9 by Alma, Bodybible, Endorphins, etc.