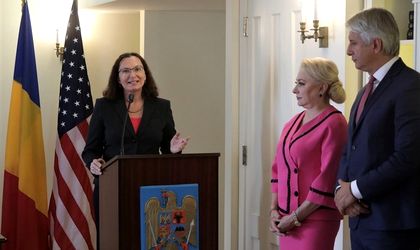 Romanian PM Viorica Dancila, who has been on a working visit to the United States, announced on Monday evening that she had signed a EUR 500 million agreement with the World Bank to provide increased access to medical services for Romanian citizens.
"It is a program that will bring real benefits to patients, as it will increase funding for family and community medicine, including by equipping high-performing medical cabinets and training primary medical staff," Dancila wrote on Facebook. "The program also aims to increase access to the medical services provided by family doctors and to improve the efficiency of spending in the healthcare sector."
According to the PM, the agreement will allow Romanians from isolated or more difficult to access areas easier access to health services, in order to be diagnosed in the early stages, get the correct treatment and better care.
The EUR 500 million loan agreement was signed by Romanian Finance minister Eugen Teodorovici and Tatiana Proskuryakova, World Bank country manager for Romania and Hungary.
The results-based health program, to be first implemented in Romania, will encourage this field to focus more on the patients.
The program comprises three main objectives:
improving coverage with primary healthcare services for the under-served population, by strengthening community healthcare and extending the basic services package in primary healthcare for uninsured vulnerable people;
reorienting the medical system, now centered on the hospital, towards efficient primary healthcare, by diversifying the package of primary healthcare services and improving payment mechanisms. A state aid scheme will also be implemented for family doctors' offices;
increasing spending efficiency in the health sector by addressing critical aspects related to costs.
The loan was approved at the World Bank Group Board of Directors meeting held on September 17 in Washington, DC. It will finance the government program, attract EU funding for the implementation of the activities required for the proposed indicators, and provide technical assistance. The loan was negotiated by the World Bank and the Romanian Finance Ministry within the framework of the 2019-2023 Country Strategic Partnership.