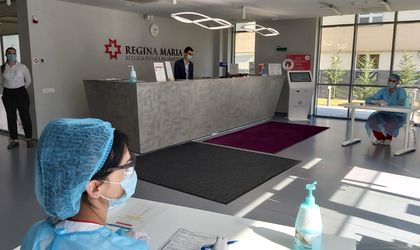 In times of pandemic, REGINA MARIA Healthcare Network stands by its patients, making decisions to prevent the long-term effects of SARS-CoV-2 infection. Therefore, so far it has invested almost 300,000 lei in free services offered to healthcare professionals and all patients overcoming the acute phase of the disease, a project that will carry on at the POST COVID Clinic. Over 130,000 lei in bonus services is added to this investment, in 3 complex packages that complement the range of post-COVID services.
REGINA MARIA launched the POST COVID Clinic in May 2020, a project designed to monitor patients infected and cured by SARS-CoV-2. Since then, the program is free for all healthcare professionals and can be further accessed for necessary tests and investigations. Moreover, vulnerable people who are not able to access private medical services have the opportunity to talk to a general practitioner to examine their case for free through the Start Package, which also includes a series of laboratory tests to assess the general health.
There are cases of patients who struggle with a number of symptoms that persist over time, such as marked fatigue, persistent muscle pain, headache or shortness of breath. Patients with persistent symptoms after 4 weeks of illness suffer from what specialists have called "long-term" COVID.
"It is important to understand that symptoms may persist after healing. Therefore, we chose to get involved by offering free access to medical services for post-COVID monitoring to anyone who needs it. There are patients with symptoms that persisted a few months after overcoming the disease, symptoms that can be prevented or kept under control by monitoring health. We will continue to invest in the health of Romanians and in offering the best medical solutions to our patients and the communities we belong to." says Nirvana Georgescu, Quality and Patient Safety Director, REGINA MARIA Healthcare Network.
There are cases where people cured of COVID-19 require complex investigations. For these patients there are 3 packages available with up to 50% discount. Post-COVID monitoring services are included in over 95% of the Network's health subscriptions.
In order to enter the post-COVID monitoring program, patients who have an attending physician in the network and a referral for the necessary investigations and tests can be scheduled directly in the REGINA MARIA clinics dedicated to collecting tests and conducting investigations. Patients who do not have an attending physician can make an appointment for a post-COVID monitoring consultation on the REGINA MARIA website and will be contacted by a Call Center operator.
COVID-19 infection can affect the general health of patients, regardless of age and form of the disease. This requires increased attention to the consequences that may occur in the body, and those who have healed need post-healing evaluation. Patient monitoring may consist of imaging investigations – chest CT – and a series of blood tests, which will be recommended by the medical doctor.