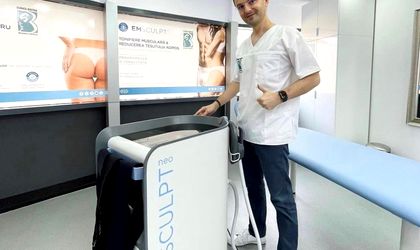 A new competitor enters the Bucharest private medical services market. Doctor Gabriel Balcangiu Stroescu and assistant professor Doctor Andra Balcangiu Stroescu opened the Doctor Balcangiu – Stroescu Clinic following an investment of over 800,000 EUR.
The clinic is located in Pipera and provides services covering 8 medical specialties: dermatology, nephrology, diabetes, nutrition and metabolic diseases, endocrine, rheumatology, cardiology, plastic surgery and general surgery.
The doctors invested the most in the medical and aesthetic equipment, which adds up to over 70% of the total investment. The most expensive device was EMSCULT NEO, a body shaping procedure used by celebrities such as Jennifer Lopez, Kim Kardashian and Meghan Fox. The Balcangiu – Stroescu doctors were the first in Romania to place a bet on the VIP device that promises to provide simultaneous fat elimination and muscle building in a combined 30-minute session. EMSCULP NEO is produced by BTL, a global innovator of aesthetic solutions.
"We started this journey with the aim and commitment to provide high quality healthcare services. Ever since we were students, we dreamed of opening a clinic that focuses primarily on the patient. Our vision is that true beauty comes from within and is then reflected on our bodies", said Dr. Gabriel Balcangiu Stroescu.
—
"We rely on a holistic approach and integrated medical services that will help our patients feel and be the best version of themselves. That's why we've invested in state-of-the-art medical and aesthetic equipment, such as EMSCULPT NEO, EMTONE, a 12-channel Holter ECG, BTL CardioPoint Ergo, the latest generation of advanced computer-based stress-test systems. This system features BTL Flexi, a pocket-sized ECG offering unlimited flexibility that can diagnose the possible risk of ventricular tachycardias that may result in sudden cardiac death", said Assistant Professor Dr. Andra Balcangiu Stroescu.
Doctor Balcangiu-Stroescu Clinic is founded by Dr. Gabriel Balcangiu Stroescu, dermatologist, trainer and national speaker of BTL Aesthetic Romania and by Assistant Professor Dr. Andra Balcangiu Stroescu, nephrology specialist and specialist in diabetes, nutrition and metabolic diseases and a doctor of medicine.