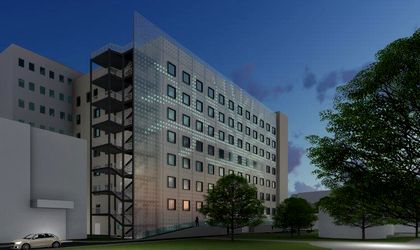 OMV Petrom announced on Friday that it would provide a record sponsorship of EUR 10 million to Asociatia Daruieste Viata's project to build the first Paediatric Oncology and Radiotherapy hospital in Romania. The hospital is being built without any support from the Romanian state, using only donations from civil society and the private sector.
The construction cost is estimated at EUR 16 million, and equipment will cost another 10 million.
Besides OMV Petrom, over 1,700 companies and over 250,000 individuals have donated a total of more than EUR 15 million.
"I think this is the largest amount ever donated in Romania. We hope that private companies won't be the only ones to contribute in the future, but also the Romanian state," said Oana Gheorghiu, one of the founders of Daruieste Viata.
Of the EUR 10 million donated by OMV Petrom, half will be used to purchase medical equipment needed to diagnose and treat cancer in children: a radiotherapy machine, a CT machine and operating room equipment, as well as materials required for training medical personnel. The other EUR 5 million will be used towards plumbing, electrical and interior design works.
Oana Gheorghiu added that the donation will also be used to repair the heating system for both the new hospital and the old Marie Curie hospital, which are located next to each other. "We will also link the two hospitals to a school and we will conduct medical training thanks to the amount donated by OMV Petrom," she said.
Last year, OMV and Petrom gas stations across the country raised more than EUR 50,000 through customer donations. The campaign will continue for another two years.
"We are very proud to contribute to the construction of the first paediatric oncology hospital in Romania. Every child deserves a chance to live and I was truly impressed by the large number of Romanians supporting this hospital through donations. There are things that can seem impossible to achieve and it takes a lot of courage to start out. But when they are important to a large number of people, those dreams will become reality," said Christina Verchere, the CEO of OMV Petrom.
Asociatia Daruieste Viata started the hospital project in 2017 based on private funds. Construction started in 2018. The hospital will be six-storeys high and have a total surface of 12,000 square meters, a new operating bloc, seven operating rooms, and departments will include surgery, neuro-surgery, oncology, haemato-oncology and intensive care. The association plans to open the hospital in 2020. It will operate as a public hospital as part of Marie Curie Hospital.