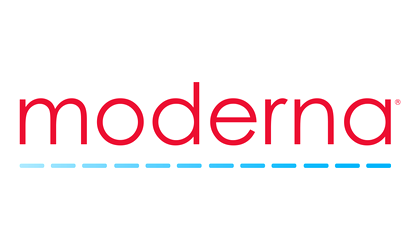 Moderna, Inc., a biotechnology company pioneering messenger RNA (mRNA) therapeutics and vaccines to create a new generation of transformative medicines for patients, today announced that it has received written confirmation from the European Medicines Agency (EMA) that mRNA-1273, the Company's vaccine candidate against COVID-19, is eligible for submission of an application for a European Union Marketing Authorization under the Agency's centralized procedure. Confirmation of eligibility was given in response to the submission of a letter of intent enabling Moderna to evaluate the opportunity for submitting a Marketing Authorization Application (MAA) for mRNA-1273 with the EMA. This submission follows positive results from a preclinical viral challenge study and the positive interim analysis of the Phase 1 study of mRNA-1273 in healthy adults (ages 18-55 years) and older adults (ages 56-70 and 71+) published in the New England Journal of Medicine.
Moderna appreciates the EMA's effective response to this serious public health emergency by establishing a Fast-Track framework, which includes rapid scientific advice, rolling review, and accelerated assessment.
"We are pleased with the productive interactions with the European regulatory authorities at the National level and at the EMA level to date and we appreciate their valuable guidance and confidence in Moderna to pursue an MAA submission for approval in Europe for our COVID-19 vaccine candidate, mRNA-1273. European partners, investors and citizens have been part of Moderna from the beginning of the company and have played an important role in Moderna's progress," said Stéphane Bancel, Moderna's Chief Executive Officer. "We are committed to developing a safe and effective vaccine following the guidance of regulatory agencies and we will continue our ongoing dialogue with the EMA. Moderna is scaling up global manufacturing to be able to deliver approximately 500 million doses per year and possibly up to 1 billion doses per year, beginning in 2021."
In Europe, the Company is working with its strategic manufacturing partners, Lonza of Switzerland and ROVI of Spain, for manufacturing and fill-finish outside of the United States. This is a dedicated supply chain to support Europe and countries other than the United States that enter into purchase agreements with Moderna.
The Phase 1 interim analysis showed that mRNA-1273 was generally well-tolerated across all age groups and induced rapid and strong immune responses against SARS-CoV-2. In the 18-55 age group, neutralizing antibody titers were observed in 100% of evaluated participants and at the 100 µg dose level selected for Phase 3, the geometric mean titers were above those seen in convalescent sera. Similarly, mRNA-1273 induced consistently high levels of pseudovirus neutralization antibody titers in all participants in the 56-70 and 71+ age groups. In addition, vaccination with mRNA-1273 elicited Th1-biased CD4 T cell responses in all age groups.
mRNA-1273 is currently being studied in a Phase 3 randomized, 1:1 placebo-controlled trial of 30,000 participants at the 100 µg dose level in the U.S. As of Friday, October 9, the Phase 3 COVE study has enrolled approximately 28,618 participants with more than 22,194 having received their second vaccination. The clinicaltrials.gov identifier is NCT04470427. For more information about the Phase 3 COVE study, click here.
About Moderna's Prophylactic Vaccines Modality
Moderna scientists designed the company's prophylactic vaccines modality to prevent infectious diseases. Across Moderna's pipeline, more than 30,000 healthy volunteers and patients have been enrolled in Moderna's clinical studies, including the Phase 3 study of mRNA-1273. Clinical data demonstrate that Moderna's proprietary vaccine technology has been generally well-tolerated and can elicit durable immune responses to viral antigens. Based on clinical experience across Phase 1 studies, the company designated prophylactic vaccines a core modality and is working to accelerate the development of its vaccine pipeline.
The potential advantages of an mRNA approach to prophylactic vaccines include the ability to combine multiple mRNAs into a single vaccine, rapid discovery to respond to emerging pandemic threats and manufacturing agility derived from the platform nature of mRNA vaccine design and production. Moderna has built a fully integrated manufacturing plant which enables the promise of the technology platform.
Moderna currently has seven development candidates in its prophylactic vaccines modality, including:
Vaccines against respiratory infections
RSV vaccine for young children (mRNA-1345)
Human metapneumovirus (hMPV) and parainfluenza virus type 3 (PIV3) vaccine (mRNA-1653)
COVID-19 vaccine (mRNA-1273)
Influenza H7N9 vaccine (mRNA-1851)
Vaccines against infections transmitted from mother to baby
Cytomegalovirus (CMV) vaccine (mRNA-1647)
Zika vaccine (mRNA-1893 with BARDA)
Vaccines against highly prevalent viral infections
Epstein-Barr virus (EBV) vaccine (mRNA-1189)
To date, Moderna has demonstrated positive Phase 1 data readouts for eight prophylactic vaccines (H10N8, H7N9, RSV, chikungunya virus, hMPV/PIV3, CMV, Zika and COVID-19). Moderna's CMV vaccine is currently in a Phase 2 dose-confirmation study. Moderna's investigational Zika vaccine (mRNA-1893), currently in a Phase 1 study, was granted FDA Fast Track designation in August 2019.