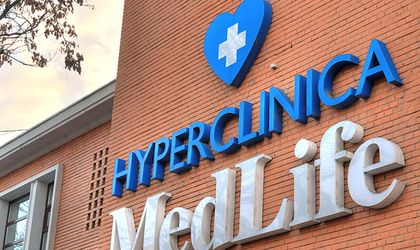 MedLife ended the first quarter of 2018 with a turnover of RON 196.8 million, a 34 percent growth compared to the same period of last year.
Clinics and hospitals have the biggest share of the posted turnover, with 29.4 percent and 21.6 percent respectively, followed by the corporate and labs divisions, with 20.2 percent and 17.8 percent. This structure also includes the acquisition of Polisano.
According to MedLife's representatives, the results are in line with their initial estimations and significantly higher than the market's growth rate.
"We are following our development and expansion strategy, and the results reflect what we've projected. We have already announced the first transactions of the year – Solomed and Ghencea Medical Center and we continue to advance on this segment. We are continuously investing in people and medical technology, with the objective of creating the most powerful private diagnostics and surgical treatment platform in Romania. At the same time, we are looking towards a new series of greenfield projects, as well as the development of a new business line," said Mihai Marcu, president and CEO of MedLife.
In 2018, MedLife aims to maintain an accelerated rate of development, with a projected growth of 20 percent from 2017.
"The development of the business strategy is also supported by the power of the MedLife brand – all external analyses put us in first place when it comes to brand quality and strength, and this is very important to us," added Marcu.
Besides greenfield projects and acquisitions, the company is also analysing a possible expansion to areas outside the country, in Bulgaria, Hungary or Serbia.