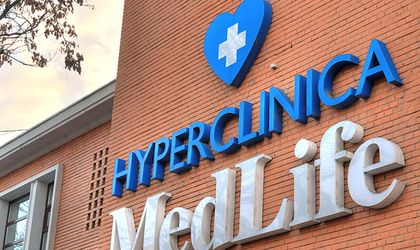 MedLife, the leader of the private medical services market in Romania, announced that its pro-forma turnover in 2018 was 29 percent higher than the one in 2017, totaling RON 804 million.
The company's EBITDA increased by 33 percent from 2017, at Ron 103 million.
In terms of separate business lines, clinics and the corporate division had the highest share of the turnover (31 percent and 21 percent). The clinics segment recorded a growth of approximately 50 percent compared to 2017. The next segments by share of turnover were hospitals and labs (20 percent and 17 percent).
Company representatives say that the results are in line with their initial estimations and significantly higher than the market growth rate.
"2018 was full of challenges and projects that created growth through acquisitions. We finalized the Polisano transaction and also brought three other companies in our group by acquiring majority stakes – Ghencea Medical Center, Solomed and Transilvania Imagistica – and at the moment, we've achieved a very good national coverage. At the same time, we've made a major step towards a new phase of business digitalization by adding the largest medical information hub to our portfolio – sfatulmedicului.ro," said Mihai Marcu, President and CEO of MedLife Group.
Development also continued on the organic development segment. The group consolidated its position in western Romania by inaugurating its first hyperclinic in Oradea. The group's second brand, Sfanta Maria, was also launched last year, with the first clinic inaugurated in Bacau.
"Sfanta Maria became an important player on the medical services market in Romania, with an extended network of family doctors and specialists working with the CNAS, offering patients quality medical services and a wide range of laboratory tests. In 2019, MedLife's second brand will continue to develop, its strategy being to cover cities with less than 100,000 inhabitants so that, no matter their incomes, Romanians can access quality medical services," Mihai Marcu added.
For 2019, MedLife aims to maintain its dynamic growth rate. The company started the year by announcing the acquisition of the majority stake in the Rozsakert Medical Center group in Hungary, thus becoming the first Romanian private healthcare provider to expand abroad.
"Since listing on the Bucharest Stock Exchange, after having had a turnover of EUR 85 million in 2015, we were the first private medical company in Romania to exceed the EUR 100 million threshold, reaching EUR 176 million at the end of 2018. This, together with the acquisition of the majority stake in Rozsakert in Hungary and our new openings, make us hopeful that we will be the first to exceed EUR 200 million in 2019," Marcu stated.