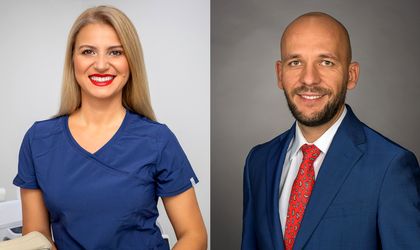 Life Dental Spa, one of the most dynamic dental clinic chains in Romania, will inaugurate its 11th unit in Constanta at the beginning of May, with an investment exceeding 500,000 euros.
The new Life Dental Spa clinic in Constanta, which benefits from a unique technology, through the use of dental laser, is located on 2B Farului Street, in a residential area, close to the Farul Constanta stadium.
The new Life Dental Spa clinic in Constanta has a total area of more than 400 square meters, in which there are five practices, where more than 10 professional dentists will work.
"We aim to provide quality dental services with state-of-the-art laser technology in all major cities across the country. Constanta has been on our investment radar for a long time, but only now have we been able to identify the best location for our needs – a suitable space in a great area. We will start with five doctors working in the Life Dental Spa clinic in Constanta, and will gradually grow to 10 to 12 specialists", stated Stefan Obreja, CEO and co-founder of Life Dental Spa.
The Life Dental Spa clinic in Constanta is the only one in the south-eastern part of the country equipped with laser technology to treat both hard and soft tissues.
"We are happy to have succeeded in bringing to Constanta the first dental clinic with laser technology to treat dental problems without pain, at standards successfully used in the United States or Western Europe. Studies have shown us that more than 80% of Romanians are in various stages that could lead to tooth loss due to avoiding dental visits and treatments, but most of those who do not cross the threshold of a dental clinic do not do so because of the pain they may experience during the treatment or procedures used. This is no longer the case with the use of laser dentistry, which allows for much more extensive procedures – pain-free and performed in a much shorter time", said Cristina Obreja MD, dentist certified in the use of laser technologies and co-founder of Life Dental Spa.
Life Dental Spa plans to invest more than EUR 2 million in 2023 for at least five new locations: 'We are looking for partners to grow with'
The Life Dental Spa team has plans to open at least five new state-of-the-art dental clinics, the total value of investments exceeding 2 million euro, with several cities across the country on the list.
"We look carefully at cities such as Ploiesti, Timisoara, Targu Mures, Galati, Craiova, Giurgiu, Bacau, Suceava or Bucharest. We are also looking into the possibility of opening in all of these or in new ones, depending on our ability to identify partners to join our business. We are also considering existing locations with medical teams who want to go to the next level and we are open to collaborate with entrepreneurs or intrapreneurs who want to invest with us for a return-on-investment in a very short time", added Stefan Obreja.
According to the Life Dental Spa representative, the investment budget for a partnership location starts at EUR 10,000 for a minority stake in the business and can go up to 49% of the business.
"We have decided that from this year we will expand across the country and in different forms of partnerships with entrepreneurs, doctors or dental clinics who want to have a guaranteed ROI. Dentistry is a secure business, regardless of a country's economic situation, political conflicts or a somewhat unfavourable or sensitive context, as it can be in other industries. People need to take care of their teeth no matter what is happening on the outside. It is an investment with minimal risk of failure", stated Stefan Obreja.