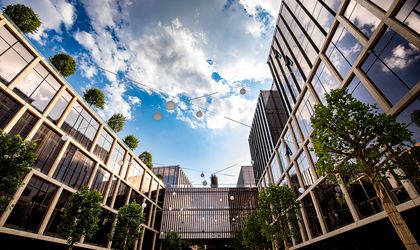 IULIUS Company has signed a partnership with MEDCITY, the only developer in South-East Europe of buildings dedicated to healthcare. The project developed under this partnership is located in Palas Campus, the largest office building in Romania, set to open this spring.
The goal of the partnership is to create a medical center where patients in Iași and in the region of Moldova can access innovative medical services measuring up to the highest of standards, provided by high quality healthcare company.
The latest project by IULIUS Company, Palas Campus, set to open this spring in Iași in the vicinity of the Palas mixed-use complex, accommodates 13 multinational IT & Automotive companies, as well as retail premises and various everyday services for the employees and residents in the area. IULIUS has signed a partnership with medical real estate developer MEDCITY, set to accommodate the Emerald healthcare operator in Palas Campus.
This is an integrated inpatient medical center that seeks to provide patients with the quickest and most accurate diagnosis across the spectrum of cardiovascular, neurological and oncological conditions, with a focus on the diagnosis of rare conditions, genetic and congenital diseases with the support of imaging departments (CT/MR) and other innovative medical technologies and devices.
"We are glad to expand the MEDCITY portfolio in Iași, the economic center in the north-east of the country, where we are opening the tenth location in our portfolio based in Romania. We are also delighted that this development is located in Palas Campus, because we are familiar with the high quality standards provided by the IULIUS projects. Furthermore, compliance and safety are a priority for MEDCITY and we can say that we share the same principles and values as IULIUS. We believe that this collaboration is meant for success and we are planning to grow our partnership in the future, because such a synergy can nurture the creation of innovative projects with major social impacts," said Alexandros Diamantis, Managing Director Medcity.
Iași is the tenth city where MEDCITY expands, and their plan for the upcoming period is to develop new projects in Bucharest, Timișoara, Cluj-Napoca, Brașov, and Craiova.