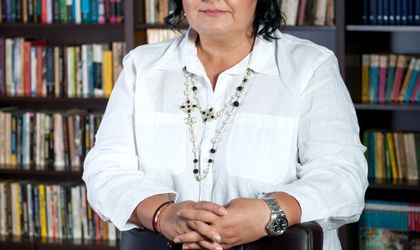 In a world where beauty seems to be one of the most desired aspects in life and the thing that most of the people are craving for, the beauty enhanced technologies and industries have grown exponentially in the last years. Plastic surgery is a field of interest in Romania nowadays, as well.
BR talked with Beatrice Popovici-Vilcu, general manager at Romger Medical, about plastic surgery, especially the breast implants' field. She is also responsible for the website estioinvingatoare.ro, that is empowering the women that had breast cancer.
What made you decide to choose this profession?
I have studied for 5 years Touristic & Commercial Management and, after my graduation, I had to choose whether I should work in a bank or as secretary in a company that was dealing with medical equipment. I chose the second option and I've never been sorry for that since then. Soon after I started working, I became manager assistant and, step-by-step, I became their sales manager. One day, I decided to have my own business.
What do you believe to be your best assets for your job?
I consider myself as a dedicated professional, a reliable person. Trustworthiness and commitment are being my strongest assets.
When and how did you decide to go on your own?
After a period of 3 years while working for other people, in 1999, I decided to go on my own and this proved to be a very wise decision. I learned a lot of things during all this time from people I worked with and I am very thankful to them!
What made you take that decision right at that moment?
As I was saying before, I was working for other people and, at a certain point, because I had the courage to say enough! I can do it on my own, I have the knowledge and I have the connections, I am able to manage things by myself and start a business.
Why this special field of the plastic surgery?
The only company on the market that was dealing with breast implants was the one that I was working for, this business activity was at the beginning during that time. I like beauty, I love and enjoy nice results, and those happy faces I see at the end of the surgery make me a better and a happier person. These were the reasons that made me believe it was worth trying plastic surgery and aesthetic surgery. I said why not? Why not me? Now I am very proud that I am the pioneer for this business.
How has this sector of business changed during the last 2-3 years? (number of clients. revenues, special offers, etc)
Each year the business is growing. Last year I sold more than 5.000 pcs of breast implants. My clients, either private clinics, or private hospitals, small private businesses for doctors and sometimes public hospitals do not buy only from me. Sometimes they go with companies that provide low-quality products as a matter of price, but when they have problems, they come back.
Who is your typical target? Are the Romanian women different than the foreign ones?
Each market is different. Women between 18-40 are the most common patients, and the medium volume used in Romania is between 325cc- up to 400 cc for both round and anatomical shaped implants.
Do they want something different and specific?
Usually, most of them want a quality product. They should ask for it, as they should also ask for clinical data and for a warranty. Patients have to discuss with their doctor the advantages/disadvantages of the surgery. The doctor is entitled to give them all the information required.
Who is your competition and why?
I do not have competition, at least this is what I keep saying to myself. Usually, the competition on this market is not fair, they try to do business on their way, by bribing the doctors, giving them free of charge implants or offering very low prices. I think there is enough space for everybody on the market. If there is no competition, this means that I do not exist. But, being on the market for 16 years, and being the only one for such a long time says a lot of things. The others came and go. There is always going to be a competition.
How do you position yourself different on the market?
I provide high quality products and this is the reason I own 60-65 percent of the market and this is what recommends me as a very trustful implants supplier.
Romanita Oprea