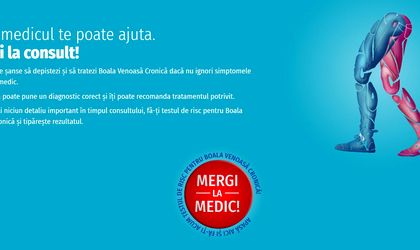 Pharmaceutical group Servier is urging people at risk of Chronic Venous Disease (CVD) not to ignore the symptoms (pain, heavy legs, feeling of swollen legs) and signs (broken calves, edema, skin changes) and go to the doctor, through a new campaign done together with Medic One – "If you want to stay relaxed, go to the doctor!".
The campaign continues the communication started in 2018 on this topic, with the goal of encouraging the population with symptoms and signs of CVD to go to the doctor, and includes patients' stories, examples of action plans and useful recommendations, increased addressability and a new approach to creative executions and the www.stop-varice.ro website.
The website has been redesigned to be engaging for visitors from the first interaction, easy to use and intuitive to navigate. It includes educational content with information about the disease, symptoms and signs, useful recommendations, exercises to improve venous circulation and a list of frequent questions with video answers from a CVD expert – a primary care general surgeon and vascular surgeon. Also on the site, visitors are invited to take a test to find out their risk for Chronic Venous Disease, and at the end, if the risk is medium or high, they are encouraged to go to the doctor.
"The entire campaign developed for Servier is based on medical education, information and the recommendation to take the quiz on the website. The role of this test is very important, because it can help us to become aware of certain symptoms and bring to light the situations or behaviors that predispose us to this disease. The campaign is aimed at sedentary people, those with predisposing occupations, those with weight problems, as well as pharmacists, who have been added as additional partners and vectors for educating the population about the disease. As part of the campaign, we have created a path for patients to follow: starting from information and questions answered by a specialist, to the test helping you determine if you are at risk and the treatment options, with a clear recommendation to see a doctor. The doctor becomes the end point of this journey, as the goal of our campaign is also to encourage as many potential CVD 'candidates' as possible to see a doctor. We are glad to have had an open and willing partner to continue the initiative of providing medical education to the general population started 3 years ago with Medic One, the Servier team fully supporting us every step of the way", said Oana Cociașu, Managing Partner Medic One.
—
"Chronic Venous Disease is predominantly a pathology of sedentary lifestyle and is very common. In Romania, epidemiological studies show that 7 out of 10 adults who visit their family doctor suffer from CVD. There are many factors contributing to its development, including heredity. It is very important that people with symptoms (pain, feeling of heavy feet, feeling of swollen feet) and signs (broken calves, edema, skin changes) go to the doctor for a consultation before irreversible changes in the venous system occur. Through this campaign we urge everyone at risk to go to the doctor to receive a correct diagnosis and treatment recommendations for CVD", said Bogdan Dolofan, Medical Affairs Director, Servier.
Another component of the campaign is outreaching to healthcare professionals: family doctors, dermatologists, surgeons, cardiologists, internal medicine doctors and pharmacists, through educational materials to raise awareness about the chronic venous disease.
The family doctor is the key player in prevention and the one who can easily identify risk factors, conditions conducive to the development of CVD and establish the diagnosis for each individual patient. And because only 1 in 4 patients go to the doctor for symptoms or signs of CVD, patients will receive informative material during the consultation to help them identify symptoms and signs of CVD and encourage them to see their doctor early.
The role of pharmacists in counselling patients with Chronic Venous Disease is very important. Thus, the campaign includes educational materials dedicated to them, with the aim of facilitating the involvement of pharmacists in patients' education, so that they better understand their disease, symptoms and signs of CVD, treatment and lifestyle changes they should make.
Medic One's campaign "If you want to stay relaxed, go to the doctor!", was developed with the support of MullenLowe Romania and Initiative Romania, with the media and creative components blending harmoniously in this second wave of the CVD campaign.
The teams that created the campaign:
Servier: Bogdan Dolofan (Director Medical Affairs) , Elena Gabriela Popescu (Medical Lead), Dana Constantinescu (Director Corporate Affairs)
Doctor One: Corina Sofariu (Account Director), Oana Cociașu (Managing Partner)
MullenLowe Romania: Silviu Antohe (Executive Creative Director), Mihai Costache (Group Creative Director), Florian Langa (Senior Copywriter), Elie Haddad (Digital Art Director), Mario Francisco (Senior Art Director)