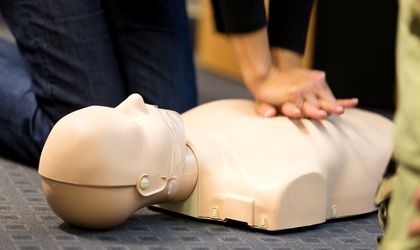 Having the ability to save lives is what a first aid training course offers us. For example, we can perform cardiopulmonary resuscitation effectively on a patient in need. Aside from that, training courses prepare us to do any first aid at work or elsewhere. 
Getting a first aid training course might be a personal project or a mandatory work requirement. Whatever the reason for taking up a first aid class, the skills it teaches us can last for a lifetime. We can confidently treat our friends and work colleagues if a medical emergency occurs. 
Why Take a First Aid Training Course? 
Knowing essential first aid treatments gives you an edge when emergencies happen in our work environments. Incidents are inevitable and can happen to our co-workers, acquaintances, colleagues, and even family members. Attending a first aid training course teaches you valuable medical skills you can instantly if someone's life is in danger. 
Our work in various industries and some areas can become hazardous to our well-being. Performing first aid in the workplace will help save lives if you do it properly. Fortunately, many businesses, big and small, provide first-aid training courses to their employees. It might be an excellent opportunity to learn some basic first-aid skills. 
The primary purpose of a first aid course is to administer immediate treatment to a person suffering from an injury or an illness. If a person knows how to perform first aid, they can save a person's life. Aside from that, applying first aid also mitigates the severity of a physical injury or prevents more damage. 
A first aid training course also prepares you for various scenarios that can happen in your workplace. The responsibility for ensuring that your work environment is safe lies on the shoulders of your employer. However, no matter how strict the safety regulations are inside your work, people can still fall victim to different incidents. 
After undergoing a first aid course, you will be confident to treat a person who has a cut, scrape, wound, burn, or bone fracture. You know how to properly stitch a deep skin cut close with stitches, cover an open injury with adhesive tapes and gauze pads, or wrap a bandage around a fractured area. First aid courses also teach people when and how to apply proper cardiopulmonary resuscitation techniques. 
Performing Cardiopulmonary Resuscitation (CPR)
We have seen our heroes perform CPR on their friends and loved ones. One famous example is the Jurassic Park scene where Dr Grant performs CPR on his electrocuted companion. Though CPR might seem doable in movies, achieving it properly, in reality, requires adequate training and knowledge. 
To help people remember, First aid training courses teach us the CAB acronym. It stands for:
C – Compressions
A – Airway
B – Breathing
Compressions
Restoring blood flow is crucial for a person suffering from a severe physical injury. Compressions is the step requiring you to use both hands to apply pumping pressure not more than 2.4 inches on the chest of the patient. You also have to use your entire body weight and perform compressions for 100-120 compressions per minute. 
Airway
After performing 30 chest compressions in CPR training, you must open the patient's airway. Opening the patient's airway requires you to implement head-tilt and chin-lift maneuvers. 
Place your open palm on the patient's forehead and gently tilt the head back.
Using your other hand, gently lift the chin forward to make the airway accessible. 
Breathing
After completing the head-tilt and chin-lift maneuvers, it is time to begin the mouth-to-mouth breathing for the patient. 
Perform the head-tilt and chin-lift maneuvers.
Pinch the patient's nostrils shut and cover the patient's mouth with your mouth to create an airtight seal. 
Breathe a lungful of air into the patient's mouth and check if the chest rises.
If the chest rises, perform another mouth-to-mouth breathing session. 
After finishing two breaths, begin another set of compressions, airway, and breathing sequences. 
Continue performing CPR until medical personnel arrives.
Conclusion
Medical emergencies can occur while we are working. Attending first aid courses shares with us valuable knowledge that can help save other people's lives. A first aid training course prepares us for situations and incidents such as workplace injuries and illnesses. During a first aid course, we will learn how to stitch cuts properly, cover wounds, wrap fractures with bandages, and deliver proper cardiopulmonary resuscitation (CPR).
Photo: dreamstime.com