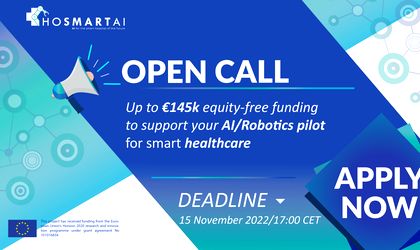 The HosmartAI project – "Hospital Smart development based on AI" has announced the launch of its Open Call #2 – EXPERIMENT – Call for Pilots, with a total budget of €580k available to consortia of 2-3 partners.
EXPERIMENT is the second and last Open Call planned in the HosmartAI project. In this second call for pilots, the project aims to increase the outreach and adoption of the HosmartAI platform, by supporting the deployment of new pilots across the EU, within various types of healthcare entities.
The applicants submitting the best 4 proposals will be invited to a 12-month programme to deploy their AI and Robotic pilots for smart healthcare. Each selected consortium will be provided with grants up to €145k, support services for the development of their experimental pilot, access to the HosmartAI ecosystem, visibility and the opportunity to work with innovative European healthcare stakeholders.
How does it work?
HosmartAI Open Call #2 invites consortia of 2-3 partners to apply, representing at least one tech provider/integrator (SME/Startup) and one end-user (healthcare facility). Competence centres like research centres, academia, or other SME/Startup supporting the integration of the experimental pilot in the healthcare industry are also welcome as an optional partner.
The top four proposals will be invited to join the programme comprising 3-phases:
DESIGN (2 months) – Fine-tune the pilot planning and technology usage with HosmartAI
DEVELOP, DEPLOY, OPERATE (6 months) – Perform the technological developments and deploy them
Assess (4 months) – Focus on the assessment and exploitation of results
Applications close on the 15th of November
The EXPERIMENT Open Call will receive applications from the 15th of September to the 15th of November 2022 at 17:00 CET, via the F6S platform at https://www.f6s.com/hosmartai-open-call-2-for-pilots/apply.
Start-ups/Healthcare entities must be legally established in an EU Member State, H2020 associated countries or Overseas Countries and Territories (OCT) linked to the Member States, in order to be eligible.
More information on the Open Call and how to apply is available at https://www.hosmartai.eu/open-call-2/.
An info webinar will be held on the 11th of October, 12:00pm CEST, providing potential applicants more information about the programme and the application process. Free tickets for the webinar can be secured at: https://www.f6s.com/hosmartai-open-call-2-webinar/