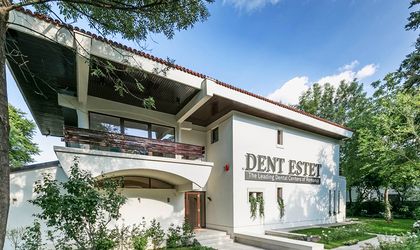 Dent Estet ended the first nine months of 2018 with a turnover of almost RON 35 million, a 19-percent increase over the same period of last year. The highest shares in the nine-month turnover were represented by their dental prosthesis and implantology services.
"In an atomized market such as dentistry, where there are over 17,000 individual medical practices throughout the country, Dent Estet remains a successful brand and a unique business model not just in the country but also in this entire part of Europe. The very good results recorded this year and the continuous gap between it and any other competitor suggest that we will approach or even reach the 10 million euros turnover we've planned for 2018," says Mihai Marcu, chairman of the Board of MedLife.     
In the first nine months of the year, 22,000 unique patients, of whom 6,500 were new patients, visited Dent Estet's clinics. In total, over 55,000 visits and cabinet interventions have been made.
Dent Estet started its largest investment outside of Bucharest with the opening of the two clinics in Sibiu, one for adults and the second for children. The two clinics offer 12 dental units (7 units in the adult clinic and 5 in the children's clinic) and aim to serve both the patients in Sibiu and the neighboring counties: Brasov, Valcea, Mures, Alba, Deva, Hunedoara.
"The market is growing by at least 16-18 percent each year, and the development potential on this segment remains huge, considering that 50 percent of the Romanian population still does not go to the dentist. Our figures are due both to the increase in the number of dental units and to a change we have been able to bring about in the behavior and attitude of the patient regarding walking to the dentist. We see a shift of options from medium products to excellence in premium services and treatments," says Oana Taban, founder & general manager of Dent Estet Group.
At present, Dent Estet has a network of 10 clinics, seven of which in Bucharest, one in Timisoara and two in Sibiu. The team has expanded to 320 specialists, of whom over 90 are doctors who have treated more than 80,000 patients over time. In the past two years, investment at clinic level in technology, materials, equipment and purchases of equipment amounts to approximately EUR 2 million, and Dent Estet will invest further in education, innovation and the development of the team of specialists.
"We have succeeded in the nearly twenty years since we've been on the market to build a solid brand and define new trends. We're glad that we've been able to make our business model an inspiration for other players on the market, because together we can make it grow and offer patients the highest standards of treatment. Moreover, we believe that the high level of education and training of doctors in our country needs to be supported by associations with international brands of extremely powerful equipment and technologies, which is why some of them have introduced us for the first time in Romania," adds Taban.
The Dent Estet Group includes Dent Estet Clinic SA, Green Dental Clinic Ltd, Dentist 4 Kids and Aspen Laboratories.