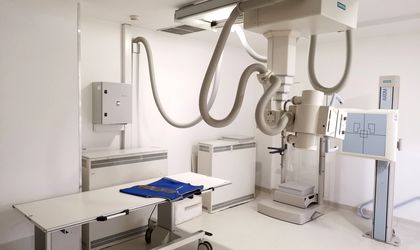 With a very dynamic global business environment, the Romanian economy is already adjusting to the new economic context, as growth settled to around 4 percent in 2019 from 4.4 percent in 2018 and 7.1 percent in 2017. With local elections coming soon, 2020 will be a challenging year for businesses. Still, there are some sectors which have registered robust development lately and thus have the potential to shine this year. Let's meet the stars of the local economy in 2020!
New legislation and economic growth to boost revenues of local private healthcare providers
The private healthcare sector is already flourishing in Romania, but new regulations and coronavirus pandemic fears could boost its revenues and earnings in 2020.
By Sorin Melenciuc
Private healthcare-friendly new regulations
This year, Romania started a major reform of its much-criticised health system, favouring private hospitals, which are now allowed to treat patients through the national curative healthcare programmes along with public hospitals. These new regulations could boost activity in private hospitals as the predictable outcomes of the new law will be a transfer of some patients from public to private hospitals.
At the same time, emergency procedures in private hospitals will now be reimbursed at a fair cost by the Health Ministry, a measure that can also bring more patients and additional revenues to private healthcare providers across the country. In terms of business, large private healthcare services providers such as MedLife, Regina Maria, Sanador, Gral Medical, Monza, Medsana or Medicover will be among the major beneficiaries of the new regulations.
Romania currently has more than 100 private hospitals and clinics and new projects are being developed as the new reimbursement regulations favour treatments in local private hospitals, which can attract the patients who have previously preferred to pursue complex treatments abroad.
Coronavirus effect
Another factor that could trigger higher demand for private healthcare services in Romania is the new coronavirus, known technically as SARS-CoV-2, which causes the COVID-19 disease.The new virus has been spreading around the world and can cause a respiratory illness that can be severe, and experts say that it is only a matter of time before the new epidemic reaches Romania.
In fact, many experts warn that COVID-19 is here to stay. The emerging consensus among American epidemiologists is that the most likely outcome of this outbreak is a new seasonal disease – an "endemic" coronavirus. This means that "cold and flu season" could become "cold, flu and COVID-19 season." Harvard epidemiology professor Marc Lipsitch predicts that within the coming year, some 40 to 70 percent of people around the world will be infected with the new virus.
Ageing population
Another boost for private healthcare businesses will certainly be related to Romania's rapidly ageing population. According to a recent ING report, Belgium and Romania's potential for elderly care and support, projected until 2030, will be the highest in Europe. "When it comes to paying for care and household support, it is most common that elderly people in Romania, Italy, Spain and Poland pay their care and household support largely by themselves," the report says.
Home support services, including healthcare, can be essential for an independent elderly life. Some private providers are already investing in this type of healthcare services and the market will certainly grow quickly during the next decade.
Health-related tech businesses
But the boost in private healthcare businesses expected this year is not contained to private hospitals in Romania. During the last few years, tech startups and IT firms have developed many health-related businesses and apps. Cluj-based IT developer Life is Hard has recently launched a medical second-opinion app called Doxtar, allowing patients to get virtual consultations from real doctors. Another example is SanoPass, a Romanian startup founded in 2019, which addresses companies and issues preventive medical subscriptions offered by employers as benefits for employees at over 500 independent clinics and medical offices.
"In 2020 we're seeing access to medical services being democratised, and independent medical offices are also growing due to innovations and technological platforms. Subscriber employees can make appointments in any partner medical clinics, having full freedom to choose depending on proximity or personal preferences," SanoPass representatives told Business Review. According to the company, a subscription to the SanoPass platform provides software for consultations or investigations, regardless of the medical specialty, in a maximum of 48 hours. Through the app, employees can talk to a qualified nurse and then to a specialist doctor who can solve the medical problem, offering a diagnosis and a treatment plan.