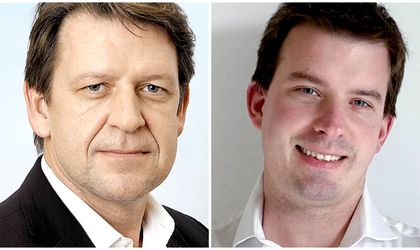 TeleDoc, one of the most innovative TeleHealth start-ups based in Auistria, announces the launch of  their new telemedicine app, MyTeledoc, on the Romanian market, following an investment of Eur 550.000. The services are available via app on IOS and Android.
Founded in 2019 by CEOs Christian Brandstetter and Florian Brandstetter and present in four European countries, Romania, Albania, Bulgaria and Kosovo, the company is one of the key players on the telemedicine market in CEE. Hungary, Slovakia, Ukraine and Croatia are planned to follow in Q4 2021.
The purpose of TeleDoc is to make healthcare more accessible, affordable and convenient for patients in Romania. This is achieved by combining state-of-the-art technology with medical expertise and answering questions accurately and in real time – without prolonged investigations.
"Telemedicine is a vital tool, it reduces costs, it allows doctors to communicate quickly and efficiently with patients, but also between them. The last few months have given us a different perspective on health and, more than ever, we have understood how important it is to have access to quality and specialized medical services. The obvious solution to meet this need at the moment is the digitization of medical services through telemedicine. We are glad that we have entered an open market and in line with international regulations and we want to bring real change, immediate, safe and beneficial access for patients in Romania", said Christian Brandstetter, CEO and co-founder of TeleDoc.
TeleDoc operates on an yearly subscription basis paid monthly by the end-user segment. myTeleDoc app offers two types of subscription, which match the needs of customers: TeleDoc Basic, a one-person subscription, and TeleDoc Family, a subscription for two adults and two children. Also, for those who do not want a subscription, there is the possibility for investigating through an individual one time call. At the moment, each user recives a free call to try out the service.  The monthly subscription cost starts from 22 lei.
"We are heavily investing in our IT solution and sector experties, this includes a specialist online practice where every specialist can open an online prectice, a AI based "doc finder" to find the most suitable doctor, the integration of smart devices to enable long term monitoring and remote care. We are also working on an knowledge database for our doctors so they can benefit from each others knowlege increasing quality for our clients. The team in Romania will have 100 doctors by the end of this year", added Florian Brandstetter, TeleDoc CEO and co-founder.
As to assist the business communities, TeleDoc also creates B2B partnership, offering TeleDoc Travel Program for the tourism industry, but also TeleDoc Volume Pricing Partnership, a program for companies that want to offer the services to customers or employees.
TeleDoc is a combination of two words: Telecommunication and Doctor, the perfect description for telemedicine. It refers to diagnostics and therapy in which the spatial or temporal distance between doctor, therapist, pharmacist, and patient is bridged by means of telecommunication.
MyTeleDoc is available for download in Google Play or App Store.