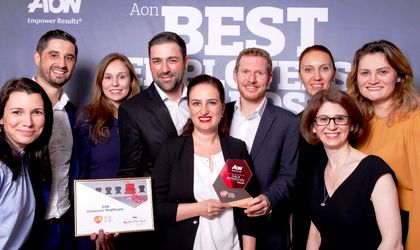 GSK Consumer Healthcare was awarded the title of Best Employer in Romania in 2018, following a survey by Aon Romania's independent consulting company.
This annual survey was designed to measure the involvement of employees from different companies in Romania in four areas – leadership, employer brand, company performance and total involvement. Employees responded voluntarily and anonymously to the survey questions. They have commented on how satisfied they are with the company leaders, how much trust they have in the team, how they are recognized, what career opportunities and benefits they have.
"We are delighted to have been recognized as one of the best employers in Romania, which confirms that our employees are proud and happy to work at GSK Consumer Healthcare. Our vision of being a modern employer starts from the belief that we need to be ourselves, feel good and evolve professionally. That's why employee involvement is even an indicator of our success as a business, and we're constantly looking for ways to make team members feel good and be happy at work," said Nigel Stephenson, general manager, GSK Consumer Healthcare Romania & Balkans.
Starting with this modern business vision, GSK Consumer Healthcare runs 17 programs in Romania to support employees' wellbeing, development, team culture and a pleasant work environment.
"Employees are at the forefront of everything we do, so engaging them is a goal of the entire organization. GSK Consumer Healthcare's goal of helping consumers to take care of their daily health begins with ourselves by allocating the necessary resources for our well-being, with a flexible schedule that allows us to manage all the roles in our lives, and with ongoing support to build successful careers. The philosophy that we all deserve to be happy at work is the one that has supported the involvement of employees and team performance over time," said Eliza Piraianu, HR manager, GSK Romania.
GSK Consumer Healthcare also received the title of Best Employer in 2014 as a result of Aon Romania's study.
GSK is a global health-based science-based company dedicated to improving the quality of people's lives to help them achieve more, feel better and live longer. Globally, GSK has three businesses: prescription drugs, vaccines, and health care products.