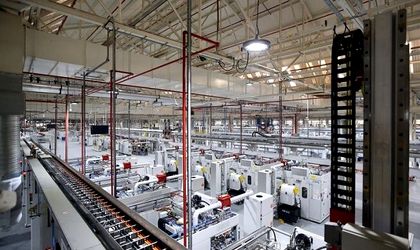 Romania's industrial output declined in August for the third month in a row, as external and internal demand falls, raising questions regarding the sustainability of the current government policies.
Official data show that industrial output dropped by 7 percent year-on-year in August, following two months of decline – by 6.6 percent in June and by 3 percent in July.
According to a recent industrial barometer, the main reason behind the slowdown in industrial production is the insufficient rate of internal and external orders.
According to the report, new orders dropped, while managers' expectations fell steadily from one month to the next.
Managers expect layoffs as the labour force indicator in the sector maintained in negative territory (44, meaning contraction).
In the first eight months of this year, the industrial production declined by 1.6 percent year-on-year as the production in manufacturing, the largest sector of Romania's industry, decreased by 1.5 percent, mining and quarrying inched down by 2.4 percent, while energy output decreased by 2.2 percent.
The drop in industrial output is associated with lower exports.
In August, Romania's exports of goods dropped by 2.5 percent year-on-year to EUR 5 billion – following a decline by 5.5 percent in June (the first decline since July 2016) and by 0.8 percent in July – and were largely exceeded by imports which also decreased by 2.5 percent to EUR 6.37 billion, government data showed.
In 2018, Romania's industrial production rose by 3.5 percent.
The industry account for almost one quarter of Romania's GDP and this poor performance has an impact on the GDP value.