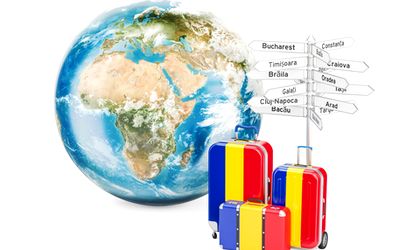 Romania has lost its attractiveness to foreign tourists as their number sharply declined during the last months. Last year, Romania registered an all-time record number of foreign tourists – almost 2.8 million – but it turned out to be the peak before the fall.  
According to tourism experts, Romania's major problem is not weak promotion, but poor road, rail and accommodation infrastructures.
"Before speaking of promotion or other facilities to increase the number of foreign tourists arriving in Romania, we have to talk about the elephant in the room: we do not have the necessary infrastructure for travel tourists coming to Romania. If from Constanta to Bucharest normally it takes two hours of travel, now it takes longer because the highway which has a 99-year-old guarantee is in maintenance works," said Traian Bădulescu, a tourism consultant.
"On the seaside, the situation is even worse in terms of infrastructure because the Agigea bridge is under repair every year, and this happens exactly in full season. The same situation can be seen on the road to Pahovei Valley. A big part of a weekend is spent in traffic," he added.
Romania has also a major problem in terms of accommodation capacity. "Romania has no really big hotels. In areas such as Transylvania or Moldova, which attract tourists with their charm, we do not have high capacity hotels. Maybe we have a few in the big cities, but that's all. You can not go with a bus with 50 tourists to a guest house because we do not have such big inns", Bădulescu also said.
Another issue is their lack of classification. Although over the last two years more than 10 percent of boarding houses left the black market due to holiday vouchers, many of them are still in the underground economy.
Lack of competitiveness
The Romanian government continues to promote the idea that spending on image campaigns may bring more foreign tourists to Romania.
But experts warn that Romanian has to improve the reality, not to sell to tourists an image better than the reality.
In fact, details like tax policy may play an important role for the tourism industry.  From this perspective, Romania is losing competitiveness against its neighboring countries.
"The Romanian travel offer doesn't cope with the European offer in terms of prices. At B2B and B2C travel rates, the Romanian product loses because we have a 19 percent VAT.  With a lower VAT of 9 percent or 5 percent, maybe we would have a chance to regain the price advantage that we once had," points out Gheorghe Fodoreanu, vice-president of the Romanian Tourism Employers' Federation.
Fewer foreign tourists
The number of foreign tourists in Romania declined in April for the 10th month in a row and the drop accelerates this year, but the local tourism industry maintains momentum as the number of Romanian tourists rises.
In April, the number of foreign tourists in Romania declined by 4 percent year-on-year to 204,000, according to the National Institute of Statistics (INS).
The number of foreign tourists from Europe declined by 4.2 percent compared to April 2018, to 149,800, while the number of Asian tourists fell by 10.4 percent to 27,500.