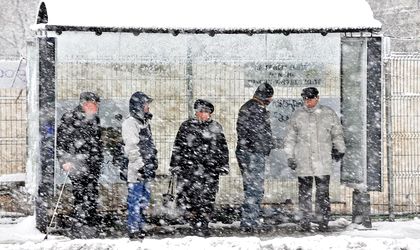 Planes departing from Bucharest airports may experience delays of up to 30 minutes on Wednesday morning due to the snow storm, but no flights have yet been cancelled, according to the National Bucharest Airports Company (CNAB).
"Operations are being carried out as normal, but in winter conditions, the aircraft need to be de-iced before take-off, which can lead to delays of up to 30 minutes. We're constantly intervening to clear tracks, platforms and runways of snow," says CNAB.
No weather-related cancellations had been recorded until 7:55 this morning.
The National Administration of Meteorology (ANM) issued on Tuesday a yellow snow and blizzard code, valid in 17 counties in the south and south-east of the country, including the Capital, but also a cold weather warning with temperatures reaching -10 Celsius for the north, northeast and center of the country.
According to the ANM, after the yellow snow code expires, a very cold weather warning will come into force across the country, from Wednesday evening to Friday morning.
Thus, between November 28th and November 30th, 10:00 am, in the southeast of the country the wind will reach speeds of 45-55 km/h, temporarily around 60 km/h, especially during the night of Wednesday to Thursday (28/29 November) and Thursday (November 29).
The weather will become particularly cold throughout the country, so the temperatures will be negative in most regions, and the night will be very cold (temperatures below -10 degrees), especially in the north, northeast and the center of the country.
Meteorologists warn that the weather will remain unusually cold until the end of the week.