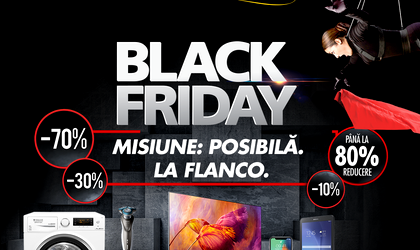 Black Friday, a November event, starts in October for Flanco. The retailer announced that the event will start on October 26 and it will end on November 19 and it will have discounts that go up to 80 percent. The retailer will steal the start from Altex that usually organizes it in November, going for the whole month with special offers.
This year, Flanco organizes the largest Black Friday in the company's history, from October 26 to November 19. The retailer will offer discounts of up to 80 percent to over 700,000 products, 131 stores in 93 cities in Romania, and online at www.flanco.ro.
"And in this edition, we provide customers with the best deals of the year, in an extended period of time and with sufficient stocks, so as to reduce the pressure felt on both sides, as would be the case with a one or two days, "says Dragoş Sirbu, CEO of Flanco. "First of all, the pressure felt by customers, who would only make great efforts to catch the product on the shelf, but also that felt by colleagues in stores, who would find it difficult to give each customer the time and attention they need in the case of traffic extremely high, focused on such a short period of time. "
For this year's Black Friday edition, Flanco has prepared the largest stock of products so far. Thus, over 70,000 TVs, 50,000 handsets, 230,000 large and small appliances, as well as hundreds of thousands of IT, gaming, auto, gadgets, tools and tools, will be available on the retailer's physical and virtual racks fitness.
Some of the most anticipated products and deals are the Samsung Galaxy S9 smartphone, which will be available for RON 2.499, with a discount of RON 600, the Samsung 4K Smart TV with a 101 cm diagonal, at RON 1,499, with a discount of RON 1,300, the 6 kg Beko washing machine at RON 799, with a reduction of RON 550, and the DeLonghi automatic espressor at RON 1,199, with a reduction of RON 1,500.
Flanco customers will have a variety of payment solutions – from unsecured credit and 10-minute pre-approval in stores to credit card payments up to 40 interest-free rates. Last year, credit card sales accounted for over 21 percent of Black Friday's total purchases, followed by credit card payments of 18 percent.
The effective land expansion plan continues for the retailer even during this period. On October 26, at 09:00 on the first day of Black Friday, Flanco will open its first store in Orastie, on Armata Street, no. 1, welcoming customers with the most anticipated deals of the year.
"Many of our day-to-day activities are accomplished today with the help of technology. This means that Romanians are more informed, invest more time when choosing the electro-IT products they need, are more demanding both in terms of product quality and the services they are offered. Thus, during the Black Friday period we also maintain customer service: door-to-door delivery, delivery check, extended warranty, mobile insurance, installation, maintenance and adjustment services," adds Dragoş Sirbu.
Black Friday stocks and offers will be constantly up to date, so customers get a variety of product options and attractive discounts throughout the campaign.