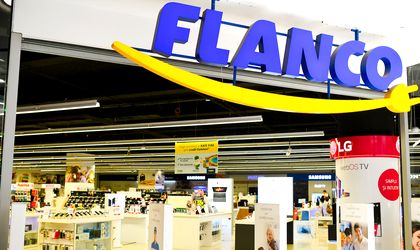 Flanco Retail closed the year 2018 with a turnover of RON 1.07 billion lei, up 9 percent over the previous year, and with a profit of RON 21 million, four times higher than in 2017, and a network of 135 stores.
"Keeping track of the strategy of streamlining the store network over the past few years has led to a very good 2018 sales performance and profitability that demonstrates that Flanco is a solid company at a pace safe and steady growth, "says Dragos Sirbu, CEO at Flanco. "In a volatile market such as electro-IT, the trust the brand inspires for both our customers and the domestic team is essential."
At the end of 2018, Flanco's network of stores numbered 135 units, with a total sales area of ​​over 70,000 sqm. The figure was reached after 18 openings and 8 closings throughout the year, complemented by 13 refurbished stores according to the newly launched Simple-Easy-Secure concept, which aims to offer better and easier buying experience to customers.
Present in 95 cities across the country, 8 more than in 2017, the retailer has focused on the types of space that have proven their efficiency over time – shops arranged in retail galleries and retail parks (40 percent), followed by street shops (40 percent), the rest of 20 percent being shops in shopping centers, especially in big cities. Another retailer marked in 2018 is the opening of the first electro-IT outlet in the local retail store – the Flanco Mihai Bravu store in the capital.
"The strategy I've followed in offline has proven its sales efficiency at stores. Although overall traffic has fallen slightly as a result of the growing number of customers who prefer to buy online, the conversion rate in stores has increased by 10%, which shows us that those who cross the threshold are more well informed and more determined in the act of buying," says Sirbu.
Online, and especially the mobile channel, have a growing share of total sales. 70 percent of online traffic comes from mobile, and mobile sales have increased by 58 percent compared to 2017. The success of online sales has also contributed to the credit service, which can be accessed directly on flanco.ro, with spectacular growth, of 74 percent.
"2018 has also meant for us an optimization of online orders, with a focus on mobile and logistics. Thus, 9 out of 10 customers still received their parcels in less than 48 hours, although compared to 2017, we have increased by 26 percent the volume of freight that we have handled in our logistic chain," says Sirbu.
The value of the company's investments increased by 25 percent compared to 2017, up to a total of 10 million lei. Two-thirds of this went to the network of stores, and the rest equally divided between IT infrastructure investments and HR programs.
Investments and programs implemented by the retailer in human resources were translated in 2018 by a 20 percent improvement in staff retention, which is also on an upward trend from year to year. Employee earnings have risen by an average of 14 percent over the previous year, and 85 percent of the shop team has accessed the monthly bonus.
Among the programs carried out are the migration of e-learning training efforts with very good results – 98 percent of the employees were active in the e-learning platform, each of them having, on average, 9 courses, which amounted to over 14,500 hours training. Another element of novelty is the recruitment campaigns for people with disabilities by the retailer, which resulted in the integration of 20 people in the organization chart of the company.
Flanco has been supporting for the third year in a row the CSR program "Noua Ne Pasă", aimed at combating school abandonment, by opening afterschool centers for disadvantaged children in rural areas. By promoting the program at the level of the entire network of stores, the retailer managed to collect more than RON 1.1 million of donations made by customers for the 15 afterschool centers that contribute to the education of 600 students.
For 2019, Flanco plans a 12 percent growth rate and an expansion of its network with another 20 stores, preparing investments worth RON 12 million.
"We want to meet our customers, focusing on areas where they've been particularly interested – such as online orders, optimizing them with new delivery options, or the range of services we want to we expand it this year," says Flanco's CEO.