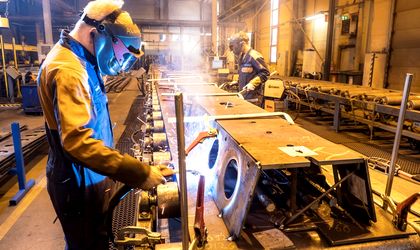 Peikko Group Corporation, an innovative Finnish company and one of the world's leading suppliers of connecting structures and technology for precast molded in situ applications, has acquired a large factory near Bucharest and will begin operations in Romania in the first quarter of 2019. Until recently, the plant was owned by the SSAB subsidiary. This project is part of a widespread investment plan worldwide, and the investment in the first phase (up to T2 in 2019) will amount to EUR 10 million.
The surface of the purchased property is 90,000 square meters, of which 30,000 square meters are allocated to modern production facilities and the remaining 60,000 square meters will be used for storage purposes.
The factory was built in 2007 to manufacture steel structures. The production areas are equipped with a range of modern suspended cranes and have a dyeing line, facilities directly used in Peikko operations.
The plant sectors can be used individually as needed, so Peikko's production capacity will be gradually developed. At present, Peikko's Factory in Romania is the world's eighth-largest manufacturing capability, but has great potential to reach the top 3 by the end of 2020.
Operations in Romania will contribute to increasing the company's total production capacity and will not affect the production plans of other existing units. In the past 10 years, Peikko has tripped its turnover, from EUR 73 million in 2009 to EUR 220 million in 2018, and the new production unit in Romania will be dedicated to serving the growing demands of markets in Western and Central Europe.
Production will begin with DELTABEAM Frame manufacturing: DELTABEAM beams, composite columns and other steel structures needed to build buildings – innovative solutions that make the construction process faster, safer and more efficient. Afterwards, the facilities will enable Peikko to extend the range of products to the concrete connection technology.
The company will generate at least 50 jobs in the first quarter of 2019, with a potential to reach 300 employees by the end of 2020.
"With this expansion in Romania, Peikko will respond to the constant and increasing demand for DELTABEAM solutions. The start of operations in Romania will help us reach our target of registering a turnover of EUR 250 million by the end of 2020. We are delighted with this opportunity, especially as Romania and the neighboring countries are very attractive targets for our products and services. We want to build a team of specialists and a strong production unit in Romania," says Topi Paananen, CEO Peikko Group Corporation.
One of Peikko's largest projects is the ICON center in Sweden, which will include a residential section, an office, a hotel and a school in the 37,000 square meters available on 20 floors. Peikko has delivered its DELTABEAM Frame system here and is responsible for the stability of the building, meeting complex technical requirements in a short delivery time. Although works started last winter, in just 9 months, the structure of the building was completed. Other big projects for Peikko are The Squaire building in Frankfurt, Germany, AARhus building in Denmark, the Shard building in London and Royal Arena in Copenhagen, Denmark.
Peikko is a family company founded in 1965 in Lahti, Finland. The company is one of the world's leading suppliers of connection structures and technology for pre-fabricated, injection-molded applications, used in a wide variety of applications. The company owns production units in 8 countries (Finland, Germany, Lithuania, Slovakia, Russia, United Arab Emirates, China and Romania), sales and operations in 34 countries in North America, the Middle East, Asia and South Africa with a team of over 1,800 people globally.