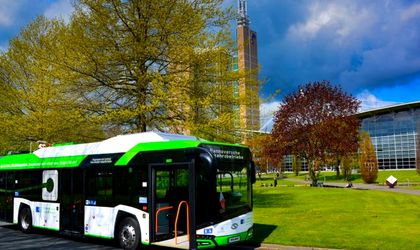 The local authorities will be able to apply for funding to the Enviromental Fund Administration (AFM) for less polluting cars for the public transport. The files for funding are to be send between October 3 and November 2, 2018.
Two new programs aimed at improving air quality and reducing greenhouse gas emissions from transport for the purchase of less polluting vehicles in public transport will be launched in the next period.
Thus, between 3 October and 2 November 2018, the administrative-territorial units, county-based municipalities, including Bucharest Municipality, will be able to submit funding dossiers under the program on improving air quality and reducing greenhouse gas emissions by using motor vehicles less polluting in local public transport.
The budget allocated to this project amounts to RON 460 million and will support the purchase of electric buses, hybrid electric buses, GNC (compressed natural gas) buses or trolley buses.
According to the cited source, the second program concerns the installation of recharging stations for electric vehicles in the municipalities of county residences and has a budget of RON 92 million lei. In this case, the administrative-territorial units residing in the county and Bucharest will be able to submit files for participation in the program from October 18 to November 16, 2018.
The AFM states that, following the approval of the budget rectification, new approval dossiers were approved in the Advisory Committee's meeting on September 20, 2018 as part of the National Automobile Renewal Stimulation Program ("Rabla" ) and the Program to reduce greenhouse gas emissions in transport by promoting clean and energy-efficient road transport vehicles (the "Rabla Plus" Program), the lists of those legal entities being published on the AFM website , to the sections related to the two programs.
At this stage, 441 files for 1,048 vehicles and an appeal for 16 cars were accepted in the "Rabla" Program. At the same time, in the "Rabla Plus" Program, 18 files were accepted for 43 vehicles (13 electric hybrids and 30 electric 100%) and an appeal for a pure electric car.
The legal entities that have been accepted can address the automotive manufacturers / dealers validated in the two programs, their lists being available on the site of the institution.
The AFM mentions that the filing session for both the Rabla Program and the Rabla Plus Program was extended until November 29, 2018.