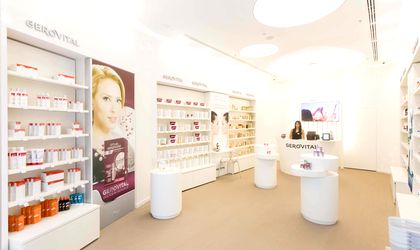 Farmec, the largest Romanian cosmetics producer, invests EUR 2 million this year to modernize production processes and to open new brand stores and develop its own distribution network.
"In order to provide our Romanian cosmetics consumers able to compete and overcome foreign brands, Farmec is continuously investing in expanding its product portfolio and opening new sales and distribution units. Innovation, efficiency and quality are at the heart of each development strategy, these being the values ​​that characterize Farmec's business. In 2019 we allocate a budget of over EUR 2 million in the refurbishment of manufacturing processes, in order to increase labor productivity. We will also develop our own distribution network so that we have the best coverage at national level and meet new standards of performance on the Romanian market and not only," said Mircea Stanceanu, Economic Director Farmec.
Over the years, Farmec has invested heavily in refurbishing and upgrading manufacturing processes, such as the automatic robotic packaging line, new labeling technology, modern palletizing systems, new mixers and other equipment that ensure both efficient operation of the Cluj factory, as well as the achievement of high-standard products.
These annual investments have led to the launch of new product ranges and the upgrading of existing market ranges by introducing innovative formulations in the field of regenerative medicine, such as: Gerovital Luxury, Gerovital H3 Derma + and Premium Care or Aslavital. Farmec is one of the few Romanian companies that offer access to an expanded portfolio of multi-branded products tailored to the needs and desires of consumers.
Every year, Farmec launches and upgrades about 100 products, with a total production capacity of 27 million products. The company's integrated technologies in recent years have contributed to the success of cosmetics manufactured in Romania, appreciated both in the country and abroad.
Moreover, Farmec continues plans to open new stores to be closer to consumers across the country. At present, the network of stores includes 8 Farmec stores and 19 Gerovital stores and by the end of the year the company plans to inaugurate 4 other units.
Also this year, the Cluj producer will modernize the car fleet as well, a necessary step towards increasing the distribution of products to its own shops and retailer partners.
Farmec Cluj-Napoca – the largest cosmetic manufacturer with 100 percent Romanian capital – remains an emblem brand for Romania. The company's portfolio impresses a whole world with modern products designed in high performance laboratories. The company has GMP international certification and sells its portfolio products in about 30 countries.
In June 2019 Farmec's brand stores network comprises of 8 Farmec stores located in Cluj-Napoca (3 stores), Arad, Braşov, Sibiu, Târgu-Mureş and Timişoara and 19 Gerovital stores located in Cluj-Napoca, Bucharest (6 stores), Constanta, Timisoara, Craiova, Ploiesti, Suceava, Iasi, Piatra Neamt, Galati, Oradea and Ramnicu Valcea.