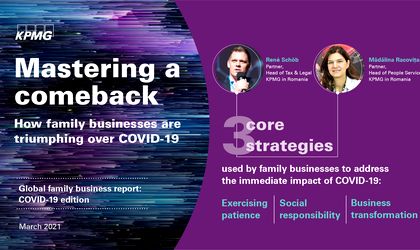 A new report from the STEP Project Global Consortium and KPMG Private Enterprise has demonstrated how the unique structure of family businesses has empowered them to respond to the impact of COVID-19. The study found that the involvement of the family and their long-term mindset has enabled them to demonstrate resilience in the pandemic, placing them in a key role to lead the economic recovery.
The report, titled Mastering a comeback: How family businesses are triumphing over COVID-19, includes insights from nearly 2,500 family businesses and more than 500 non-family businesses. It uncovers three core strategies used by family businesses to address the immediate impact of COVID-19:
Exercising patience: Family businesses are focused on protecting their succession plans and long-term future for the next generation. This long-term mindset has enabled them to leverage their patient capital to understand the full impact of COVID-19 on their business and others in their industry, with a view to adopting plans for the long term, rather than just mitigating the short-term impact of the pandemic.
Social responsibility: They took steps to address the impact of the pandemic not only on their family and business, but on the welfare of society, and the needs of all their stakeholders including employees, customers, suppliers and local communities.
Business transformation: Family businesses were found to be 42 percent more likely to implement business transformation strategies than non-family businesses during the pandemic. Family businesses with multiple generations in the firm were 45 percent more likely to implement a business transformation strategy than single-generation family firms.
Andrea Calabrò, STEP Project Global Consortium Global Academic Director says: "One of the key differentiators of family businesses is how they define success. While profits and dividends are important financial measures, success in family businesses is also defined by both financial and non-financial objectives, such as control, transgenerational succession, social capital, emotional connection to the firm, and reputation. These non-financial (socio-emotional) objectives are important enough in family firms to have a direct impact on their decision making and how they measure success. It also explains why, after taking immediate actions to cushion the financial shock of COVID-19, families turned their attention to longer-term strategies for sustaining the purpose and non-economic value that the family derives from owning and managing the business."
René  Schöb, Tax Partner, Head of Tax and Legal, KPMG in Romania says: "With more companies looking at the technology infrastructure of their firms and the acceleration of the new digital economy, encouraging greater involvement of younger generation family members may be one of the most important short-term actions family businesses can take. Many family businesses were quick to adopt new technology processes that completely transformed the efficiency of their operations. Others have tapped into their family's entrepreneurial mindset to diversify their businesses by creating a new catalog of digital products and technology services that opened up entirely new markets that weren't even imagined a few months earlier and making sure that their products are relevant in the new reality."
Key findings from Mastering a comeback: How family businesses are triumphing over COVID-19:
Sixty nine percent of family businesses reported that COVID-19 resulted in an initial revenue decline, 9 percent reported an increase specifically due to actions taken to pivot their business, and 22 percent reported no revenue changes.
There was an 8.56 percent workforce reduction among family businesses globally, compared to a 10.24 percent reduction in non-family businesses.
Three quarters (76%) of family firms globally made use of government support programs, primarily in the form of low-cost loan arrangements. There was less interest in government subsidies among family firms compared to non-family businesses.
More than 70 percent reported that they maintained their R&D investments and continued to launch new products and services.
Patience and long-term thinking
The size, scale and age of the business also contributed to how businesses chose to respond to COVID-19. The report concludes that because older business families have been so committed to sustaining entrepreneurship across the generations, this has led them to act carefully and focus on longer-term solutions. Their patient capital and financial resources, especially among older and larger family businesses, allowed them to withstand major changes and challenges to their operations in the short term and to identify opportunities for the long term.
Tom McGinness, Global Leader, Family Business, KPMG Private Enterprise, "For many family businesses, an unexpected and positive outcome of the pandemic was the gift of time. With a slowdown in their business operations, several family business leaders found they now had the time to explore ideas for new products, new markets and extensions of their business that had been in consideration for several years. Others took the time to look seriously at ways to streamline their operations, including implementing new digital solutions, and to focus on important family issues such as succession planning and their ownership structures."
Greater family involvement led to greater social responsibility
The report identifies two key factors that influenced families' strategy decisions: whether the business is led by a family or non-family CEO, and whether the company shares are owned by a small or large number of family members.
Businesses led by a family-CEO and with high family involvement were more likely to adopt a social responsibility strategy as one of their choices was to focus on the welfare of employees and the communities where the family lives and operates. Whereas, if a family business is led by a non-family executive or with lower family involvement, there was a higher likelihood that the business leader made difficult decisions to soften the impact on the business such as reducing employee numbers, general cost cutting and potential restructuring.
"Several lockdowns across the world in the past year have brought together family members from multiple generations which helped them nurture the transgenerational entrepreneurial mindset that is the fuel for innovation. Many now see that younger generations of the family have innovative ideas for the future of the business and they're examining the mechanisms that need to be in place to keep bringing fresh ideas to the surface. Our study has shown that those with multiple generations of the family involved in the business – in leadership or operating roles, as Board members or shareholders – were 45 percent more likely to deploy a business transformation strategy compared to single-generation firms as part of the immediate recovery plan and for the company's future growth prospects", explained Madalina Racovitan, Tax Partner and Head of People Services, KPMG in Romania.
Multiple generations working together have accelerated business transformation
The study reveals the pivotal role that multiple generations of the family have played in their response to COVID-19. When two or more generations of the family are involved in the business, next-generation family members have helped to advance two critical agendas: their firms' rapid digital advancement and putting ESG in the strategy spotlight. This meant that 70 percent of families reported that they maintained their R&D investments and continued to launch new products and services throughout the pandemic.
Jonathan Lavender, Global Head, KPMG Private Enterprise, "These NextGen influencers also recognized that implementing an ambitious ESG strategy was an essential ingredient in the transformation of the family business. As a result, they have expedited the operational changes necessary for achieving their firms' environmental and societal goals and firmly embedded ESG as a strategic business priority."