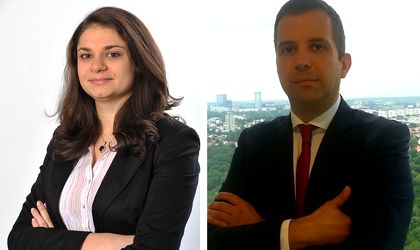 EY Romania has welcomed two new Associate Partners starting July 1: Ana-Maria Domsa has joined the Taxes department and Andrei Ratiu has joined the Business Support department.
Ana-Maria Domsa has 11 years of experience in the field, both locally at EY Romania and globally at EY EMEIA Tax Center, in various project in which she assisted both Romanian companies and large multinationals. Domsa coordinates global report projects and has experience in providing conformity and consulting services in VAT for multinationals in several industries. She joined EY Romania in 2008 and from now on she will be responsible for expanding the services of the EMEIA Tax Center team in Romania.
Alex Milcev, the head of the fiscal and legal support department, said: "Ana-Maria had an exceptional professional path in her 10 years at EY, proving her professionalism and her leadership in all the projects she has coordinated. I am certain she will have very good results in her new role."
Andrei Ratiu has more than 14 years of experience in business consulting for banking and insurance institutions both locally as well as in Central and South-Eastern Europe. Ratiu has a rich and lengthy experience in the field of risk management and regulations, with complex implementations of information systems and improving organizational models. Together with the coordinator of the consulting department, Andrei is responsible for the growth and consolidations of the EY team's practices.
Aurelia Costache, the head of the Business Support department, said: "I believe Andrei's experience will help us continue to obtain significant positive results, both for our clients and for EY, contributing to the strengthening of our position as a leader in business consulting for financial-banking institutions."